Inside Out – Analysing Hillsborough
"Yours are the kind of reports which should keep your chief constables awake at night".
Don McDowell Intelligence Study Centre
Strategic Intelligence Analysis Training

INTRODUCTION
I don't suppose the notion that the 1989 Hillsborough Disaster was a deliberate police-state sponsored act of internal tyranny,will go down particularly well with my former employers, South Yorkshire Police. I predict two things. First, SYP, who have a  distinctive aversion to the truth, will dismissively suggest that I am just being "outlandish" and  possibly "vindictive". Second, our government may wish to dismiss this as merely a "conspiracy theory", or at worst  label me, Tony Farrell, as a "non-violent extremist".
Knowing what I know, my over-riding sense of responsibility and duty of care with this controversial subject, is to commit my retrospective analysis on the Hillsborough Disaster to paper, and in so doing, put into practice  now, precisely what I was trained to do as a Strategic Intelligence Analyst many years ago, namely to do my level best to "keep my former chief constables awake at night".
FORMAT OF REPORT – TONY FARRELL
Part 1 Lemmings at Leppings Lane
Part 2 Why are T.H.E.Y. Protecting Jackson?
Part 3 Irvine Patnick – The Local Fixer
Part 4 Getting Away with Murdoch
Part 5 Sweet F.A. to do with us!
Part 6 Injustice Linked to the 96 – The Cops
Part 7 Injustice Linked to the 96 – The Politicians
Part 8 Injustice Linked to the 96 – Corporation St.
Part 9 Injustice Linked to the 96 – The Judiciary
Part 10 Spot the "Odd-Ball" Competition
PART 1 – LEMMINGS AT LEPPINGS LANE
Definition of a Lemming: "A person who unthinkingly joins a mass movement, especially a headlong rush to destruction."
INFERENCE
Hillsborough was a deliberate act of state sponsored tyranny and any understanding of why and how Hillsborough happened, is predicated not so much on a blind acceptance of Coroner Goldring's deceptive and diversionary direction to his jury, but rather on tracking the post and prior antics of those individuals and corporations who most benefited from the disaster itself. The fundamental question which needs to be asked is this. Who have most benefited from the  disaster and who besides South Yorkshire Police, have done least to elicit the truth about the disaster?
PROBABILITY ASSESSMENT  = 95%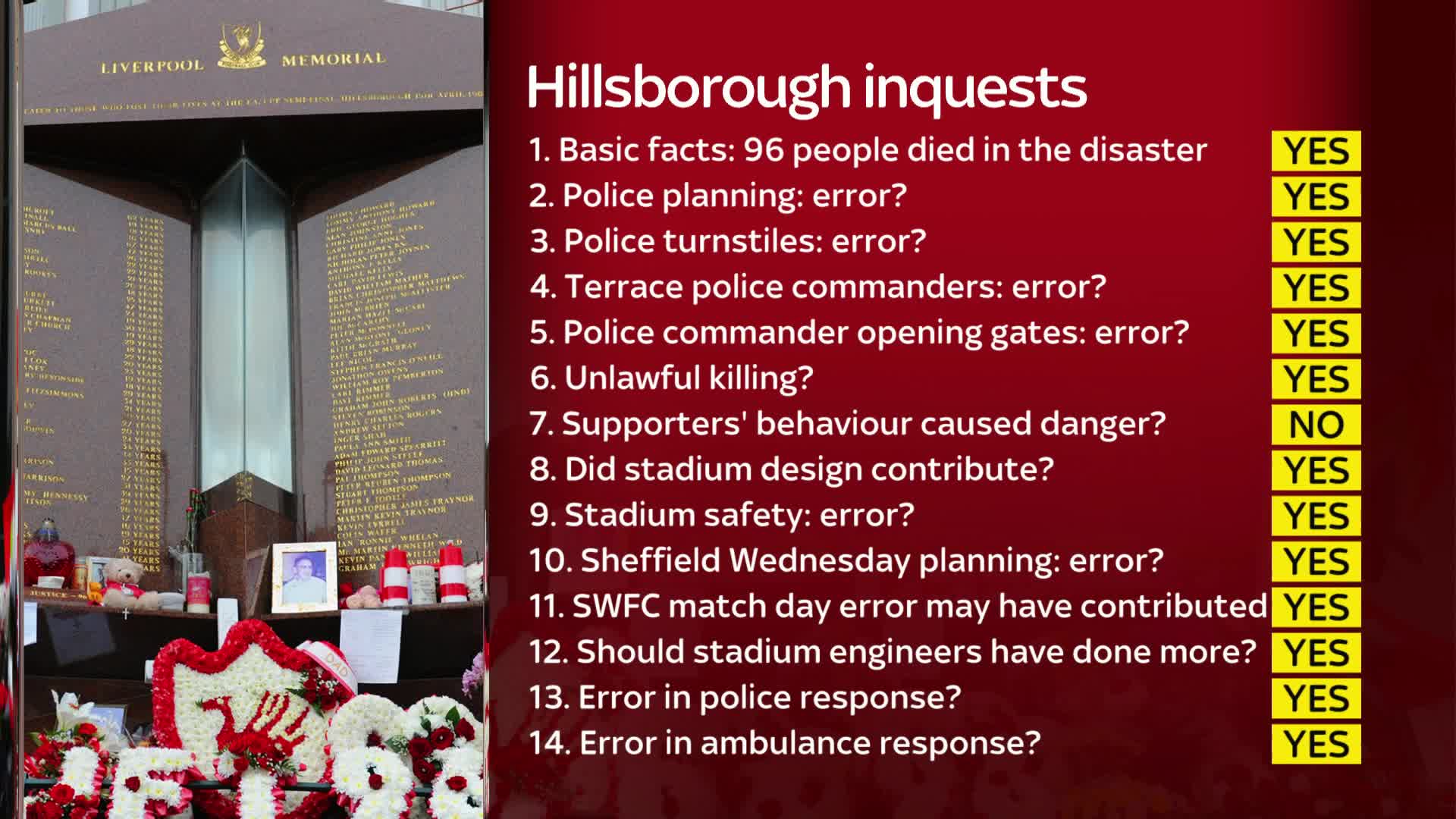 (1). Absent from this Coroner's directive and juror's list of questions to consider and answer, was a vitally important  fifteenth question: Deliberate act of police state-sponsored tyranny?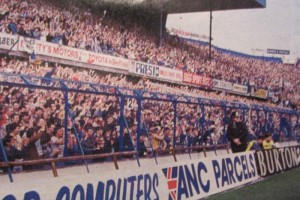 (2). From as early as 1981, there were known serious health and safety risks at Leppings Lane. Later, the  exploitation of such  risks brought forth the  grand long-term plan to revolutionise football. After the F.A. Cup semi-final in 1988, and with the reputation of the game at a low, the Leppings Lane end of the Hillsborough ground, was the chosen venue to execute a cunning plan.
http://www.bbc.com/news/uk-england-merseyside-35462767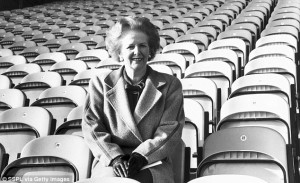 (3). Trusted members of Thatcher's inner circle had the means to stage-manage a  catastrophic and cataclysmic event which could and would pave the way for a total legislative onslaught against outdated and unsafe football stadiums and usher in a brand new era for the "beautiful" game.
https://www.theguardian.com/football/blog/2015/jan/03/football-hooliganism-prime-minister-archives-margaret-thatcher-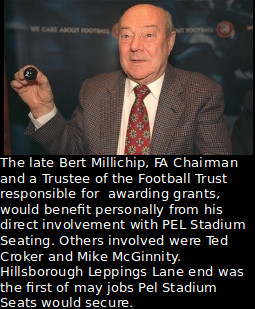 (4). Prior to Hillsborough,  key authorities such as the Football Association, via Ted Croker and Bert Millichip and the Tory Sports Minister Colin Moynihan, together with South Yorkshire Police, knew full well that Leppings Lane was a death trap and a disaster just waiting to happen.  It was known that these terraces were not fit for the purpose . No other specific standing terraces anywhere in the antiquated stadiums across the length and breadth of the country had such a notorious and hazardous track record as the death-trap terraces of Leppings Lane, Hillsborough.
http://www.playthegame.org/news/news-articles/2002/pel-stadium-seatings-owes-its-success-to-the-hillsborough-disaster/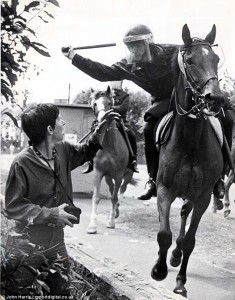 (5). Since 1984, a Faustian Pact  existed between Thatcher's government and South Yorkshire Police. The cops had been used by the Iron Lady  to  smash the Miners at the battle of Orgreave. In return for that favour, their immunity from blame and prosecution would be guaranteed. From the backdrop of Orgreave, at least three SYP Senior Command Team members within their Steel City ivory tower police headquarters would have been seen by the Iron Lady's Cabinet, as potentially staunch allies and proven, trustworthy partners in crime, and fiercely loyal government foot-soldiers.  Their names were Chief Constable Peter Wright, Deputy Chief Constable Peter Hayes and Assistant Chief Constable Walter Jackson. That bond had been  firmly cemented by the 1988/89 season.
http://www.liverpoolecho.co.uk/news/liverpool-news/andy-burnham-wont-full-truth-11615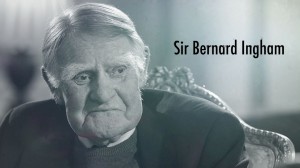 (6). Following the Heysel Stadium Disaster in 1985 and before that, the Toxteth Riots in 1981, no other Football Club, and no other City, had irked  the ruthless and vengeful Thatcher Cabinet quite so much.  It cannot be argued that the iron lady and some of her cronies like Bernard Ingram didn't hate Liverpudlians with an absolute vengeance.
https://www.theguardian.com/uk/the-northerner/2013/feb/01/hebden-bridge-bernard-ingham-hillsborough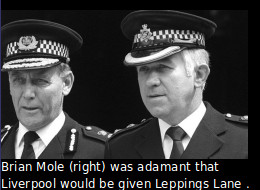 (7). Once the semi-finalists were known, rigging it so that Liverpool were allocated Hillsborough and given the inferior and unsafe Leppings Lane end again, would be relatively easy. People like Bert Millichip, and Graham Kelly were in place to fix it with the co-operation of the Senior Command Team of South Yorkshire Police. Liverpool's chairman made a prior objection to the Leppings Lane End, but Graham Kelly withheld this from the key decision-maker F.A.'s Jack Wiseman.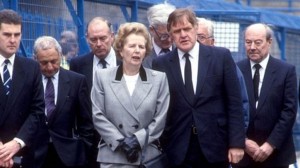 For Thatcher, the disaster was the perfect opportunity to  kill two birds with one stone: get the excuse needed to usher in the all-seater stadiums which were a pre-requisite for Murdoch's pay TV via BSkyB; and simultaneously punish Liverpudlians whom  she saw as alien to hear ideals.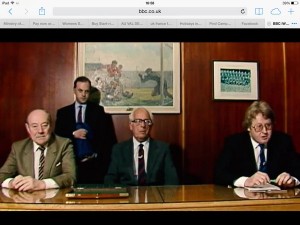 Thatcher and her close personal advisers  would have been fully confident that they could rely upon Messrs Wright, Hayes and Jackson, as these officers were  already in their pockets over their mauling of the 1984 pickets from Orgreave.
PART 2 – WHY ARE THEY PROTECTING JACKSON?
I'll scratch your back, if you will scratch mine!
INFERENCE
Former Assistant Chief Constable Walter Jackson played an integral part not just in the Cover-Up of the Hillsborough Disaster, but also in the execution of the deliberately staged managed event.
His cover-up extended to the events which took place before, during and after the disaster . Jackson  is one of the select few officers in South Yorkshire Police at the time, and still alive today, who would have been party to a tightly controlled government plan to orchestrate an accident at the Leppings Lane End of the stadium.
Walter Jackson has been  and remains a willing government footsoldier and did his bit to make the disaster happen and keep the truth from the public. In return, he has always been protected and rewarded with a retirement on a full ACPO pension and kept away from the spotlight for over a quarter of a century.  At some important point during the day of the disaster, he hid underneath a table gibbering like an idiot in the Police Control Box, while other police officers tried to conceal his compromised position. The conspiracy of concealment of this shameful misconduct continues unabated. Jackson stayed on in service until 1995 and retired with an unblemished record. This was long enough for him to ensure that the wall of silence over Hillsborough remained the status quo within the corridors of power within South Yorkshire Police.
To this day, Walter Jackson remains a carefully protected species and no efforts have been spared to ensure that his contribution to the crucial events surrounding the disaster, remain a carefully guarded secret. As far as the establishment is concerned, Walter Jackson, as a member of a high level organised crime group, is a risk and a liability for them, as he is known to crack under pressure, and he is probably the weakest link remaining, from the original gangsters  responsible for pulling off this wretched stunt. Secondly, the subsequent chain of events have invoked a series of massive judicial cover-ups in a shameless charade lasting over a quarter of a century.
PROBABILITY ASSESSMENT – 95 PER CENT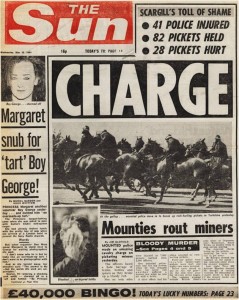 1. CHARGE OF THE "WRIGHT" BRIGADE
About 10,000 strikers and 5,000 police officers clashed at Orgreave coking plant in June 1984.  Under Chief Constable Peter Wright and Deputy Peter Hayes, A.C.C. Walter Jackson, along with the force's solicitor Peter Metcalf, egged on by RUPERT Murdoch's Sun, played out the significant part in the subsequent Tory backed Orgreave cover-up.
Walter Jackson's internal review in 1986 did not accept there had been perjury or malpractice by the police, and merely supported Peter Wright's initial claim that the flaws in the police case, were due to the chaotic events of the day. The Murdoch/Tory/SYP unholy trinity and Faustian pact was thus formulated.
2. In the days, months and years  after the Hillsborough disaster, Walter Jackson was protected from within the force, and Jackson, just like other senior officers, escaped disciplinary action during ACC Graham Moore's subsequent internal complaints and discipline procedures. Jackson remained in service as an Assistant Chief Constable until 1995 where he helped keep the lid on things and kept Richard Wells at arm's length.
Most notably, Walter Jackson was also gifted with an extremely easy ride by Leslie Sharpe, the Chief Constable of Durham, who played a leading role in the West Midlands Police Investigations post Hillsborough.
At the recent Inquests, the Coroner ruled that Jackson could not be subject to any adversarial questioning and that questions to him must be kept short.
3. Andy Hymas, a former Press Officer of South Yorkshire Police, witnessed first hand the incident of Walter Jackson hiding underneath the table of the Police Control Box on the day of the disaster itself and related the account of what happened to me in 2009. This particular allegation is well-documented, but the establishment, the mainstream media and South Yorkshire Police have all made a concerted effort to purposely keep the controversial story away from the lime-light and from any meaningful public scrutiny.  Andy Hymas' account given to me in 2009, is impossible to reconcile with his official witness statement submitted in 1989 after the incident. Andy Hymas appears to have concealed what he witnessed back then, but pressure has been exerted on him, yet it still remains unknown what steps, if any, he has subsequently taken  to rectify matters.
4. As with Orgreave, under Peter Wright and Peter Hayes, Walter Jackson, along with the force's solicitor Peter Metcalf, played a significant part in the Hillsborough  cover-up and so inevitably, and whether they like it or not,  the IPCC have Jackson on their radar.
5. Meetings between South Yorkshire Police and Thatcher's Cabinet over Hillsborough were secret and no record of discussions have been disclosed.
6. At Hillsborough, Jackson outranked Duckenfield and was present in the stadium on the day.  Upon seeing the disaster unfold from his vantage point of  the Director's Box, Jackson failed miserably to subsequently assume effective command upon realising it was a major incident.
(i) Jackson had responsibilities for the Hillsborough Police operation prior to the match itself .
(ii) Jackson played an instrumental part in switching the Match Commanders.
(iii) Jackson went to considerable lengths to persuade the inexperienced Duckenfield to take on role of Match Commander at short notice.
(iv) The extent to which Jackson flattered Duckenfield in the immediate aftermath of the disaster, when the commander palpably froze, is cringe-worthy.
(v) Jackson fully supported C/S Mole in his prior adamant insistence  that Liverpool supporters had to be allocated the Leppings Lane end, despite knowing of the counter protests from the Liverpool Chairman.
(vi) At the inquests, Jackson admitted that he failed to use the codeword "CATASTROPHE", when he was in the Police Control Box, which would have invoked the Major Incident Plan.
(vii) It is a demonstrably provable fact that certain  officers permanently located on the day in the Police Control Box, have lied repeatedly in court hearings when under oath, not just to cover up Duckenfield's lies about the opening of the gate, but worse still to cover-up the much lesser publicly known, gross misconduct of Walter Jackson on the day.
These officers are named as follows: P.C. Mike Ryan; P.C. Trevor Bichard and Sgt. Mike Goddard.
Please see figure 1 for a time-line chart about what happened in the Police Control Box between 2 p.m. and 5:30 p.m. on the day:
Hillsborough – The Police Control Box Time-line
(viii) The HIP report suggests C/S Addis was unable to gain access to the Police Control Box, because "A fireman was stuck in the door". This is a further indicator that supports Hymas' account to me. The Hillsborough Independent Panel never questioned this ridiculous statement.
PART 3 – PATNICK – THE LOCAL  FIXER?
https://en.wikipedia.org/wiki/Irvine_Patnick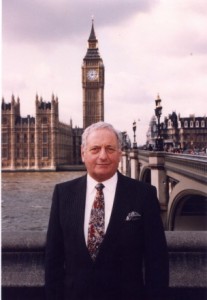 INFERENCE
As a sole local far right-wing Tory politician in Sheffield, Irvine Patnick with his connections with the Senior Police and the Freemasons in Sheffield, was an integral member of a close knit team who constructed a plot to stage manage an accident at Hillsborough and then do whatever became necessary to cover it up. PATNICK would be vital cog in the wheel who would be a local voice from Sheffield who would promote the early propaganda. This would help  cover-up the stunt and would take hold in the immediate aftermath of the stage-managed accident. It would shape and define the nation's early thinking. In return, PATNICK, for his gross misdeeds, would be protected and rewarded with a Knighthood and given a prestigious position as one of the government's whips.
PROBABILITY ASSESSMENT – 95 PER CENT
1. In the immediate aftermath of the Hillsborough Disaster, PATNICK played an instrumental role in spreading falsehood about the Hillsborough Disaster and did untold damage to help skew and distort the nation's thinking about Hillsborough.
(i). After the disaster, allegations emerged from "unnamed sources" – later established to be a Police Federation spokesman and the Sheffield Conservative MP, Irvine PATNICK – claiming Liverpool supporters had "deliberately arrived late determined to force entry" to the ground.
(ii). PATNICK was the one who raised alcohol as the Hillsborough Disaster cause in parliament on April 17th 1989.
(iii). In the media in the immediate aftermath of Hillsborough, PATNICK proffered extreme solutions such as a breathalyser system for  football fans to combat his false conceptual model of cause. Such promoting of ill-conceived and radical measures  would serve to further help demonize Liverpool supporters and working class football supporters in general.
(iv). It was not until 2012, that it was established that PATNICK was the  source which triggered to the subsequent press and media smearing tactics put out be The Sun Newspaper and others.
(v).  Calls from Labour MP Eric Heffers to question the truth of the PATNICK fed Sun's allegations on the very day they first came out, fell on deaf ears in parliament. For far too long, no evidence was ever demanded of PATNICK to back up his outlandish and incredulous allegations.
(vi). The police officers who allegedly told PATNICK these outrageous lies were never identified and exposed until the HIP report when it would have been a very simple and essential matter to establish their identities and veracity much sooner.  Instead, the Tory establishment happily allowed PATNICK's risible rhetoric to shape the nation's thinking and for far too long PATNICK's version of events held sway and was accepted as unvarnished truth by the majority of the nation.
(vii).  On the evening of the disaster, PATNICK met with senior officers such as Duckenfield and other police officers such as Inspector Sykes and Paul Middup of the Police Federation at the Niagara club. PATNICK's letter reveals Duckenfield had been known to him for some time, as a lower ranking officer.
David Duckenfield
Paul Middup
Gordon Sykes
(viii). PATNICK initiated contact with The Sports Minister Colin Moynihan that first evening and was there to meet him The Sports Minister upon his arrival at Niagara where Police Officers of all ranks had gathered. It is not clear whether or not Moynihan was hosted at PATNICK's home that first evening.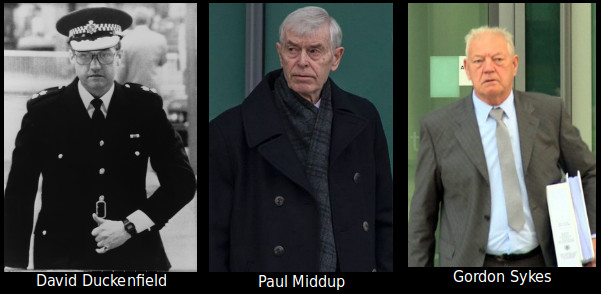 (ix). PATNICK initiated contact with Lord Dear of West Midlands Police immediately after it was decided that West Midlands Police would be responsible for evidence gathering and exerting undue influence on the Coroner Stefan Popper.
http://hillsborough.independent.gov.uk/repository/docs/HOM000016460001.pdf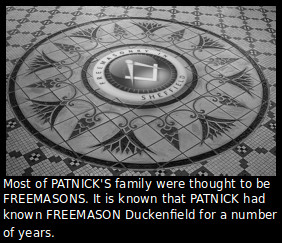 2. PATNICK was also the chairman of trustees of The Trust for Research into Freemasonry, a charity established to support the Centre for Research into Freemasonry and Fraternalism at the University of Sheffield.
He was the vice-president of Sheffield's Kingfield Synagogue, life president of Sheffield Jewish Representative Council, and a former national vice-chairman of the British Maccabi sports and youth organisation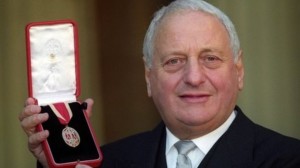 3. PATNICK was knighted in 1994, having spent only five years in a  position as a Tory Party Assistant Whip, promoted to that position on 24th July 1989 shortly after Hillsborough.
4. PATNICK only issued an apology for being the source of the original smears, after, and not before the HIP report had found him out in 2012,  a full twenty-four years after the event. Such a duration  would have been ample time for him to have set the record straight, given  the blatant falsehood and the untold damage which he would have known he had caused. That was  because the damaging elements of his story had come direct from his lips, in the immediate aftermath of the disaster.  His actual apology was disingenuous.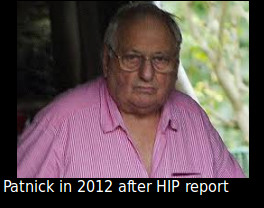 5. In making his "double-injustice" apologies in 2012, the then Tory Prime Minister Cameron was quick to condemn the initial lies of the police. However, absent was any mention of PATNICK's highly significant role in that  disgraceful development. Opposition clamours made for PATNICK to be stripped of his knighthood were resisted by the Government and they even went so far as to disable a Government Petition  created by the public to that effect.
http://www.bbc.com/news/uk-england-merseyside-20036787
6. PATNICK was in the building contract industry, having completed studies at Sheffield Polytechnic.  Intelligence suggests that Patnick had a portfolio of properties on the same street where White's News Agency, the original source of "The Truth" article, was located.
7. PATNICK was an ideal stooge for the Tory Party having initially coined the expression of "The People's Republic of South Yorkshire", at the time of Orgreave.
PART 4 – GETTING AWAY WITH MURDOCH
INFERENCE
At a high level, in cahoots with Margaret Thatcher, some of her  Cabinet Office, and key members of the Football Association, it was business tycoon Rupert Murdoch who was an integral part of  the initial plot to stage an accident at Hillsborough. Murdoch and his vast empire would be the ones to gain most financially in the long-term, from ushering in a brand new clean image of football played out in plush new all-seater stadiums. Murdoch's team would devise and secure lucrative long-term TV broadcasting and betting contracts. This much he would be promised, in return for his initial support via his widespread global media influence and his extensive involvement with the betting industry from where the initial pump prime funds for football stadium improvement derived. In Britain, Murdoch understands that he and his entourage can commit serious crime with impunity, knowing full well that the establishment will not dare touch him.
PROBABILITY ASSESSMENT  = 95 per cent
(1). Murdoch's symbiotic relationship with Thatcher was plainly evident in the years leading up to Hillsborough. History now shows that an empire of the press was nurtured a full  decade before Hillsborough. This was done through secret deals between the Tory cabinet and the business tycoon and to any right minded citizen, such conduct would be classed as criminally corrupt.
www.theguardian.com/uk-news/2015/apr/28/how-margaret-thatcher-and-rupert-murdoch-made-secret-deal
(2). In 1989, Murdoch had links with Vernons in Australia. On 2nd May 1989, Murdoch, Kerry Packer and Vernons and their company Australian Pools Pty Ltd ended their association with a troubled Australian Soccer Pools. The initial funding for the all seater stadiums came from a tax reduction on the Football Pool Companies, courtesy of Thatcher.  These were Littlewoods, Vernons, and Zetters at the time.  In 1989, Labrokes acquired Vernons Pools. Years later Rupert Murdoch's  Sky entered into a £30M  joint venture with Ladbrokes.
https://www.theguardian.com/media/2001/jul/12/bskyb.citynews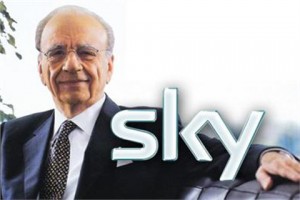 (3). Murdoch described sport as a "battering ram" for pay-television, providing a strong customer base and in 1992 the Premier League was formed and a link-up with Rupert Murdoch's Sky TV led to a significant increase in broadcasting revenue for the major football clubs in England. The acquisition of such deals attracted widespread criticism that Murdoch was at the epi-centre of a government sponsored cartel.
https://en.wikipedia.org/wiki/Sky_UK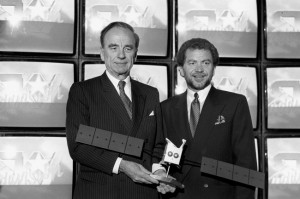 (4). Alan Sugar developed a business interest in Football in the late 1980's and as the new chairman of Tottenham Hotspurs, Sugar became very influential in the formation of the Football Premiership League and he was involved in the cartel wheeling and dealing with Rupert Murdoch and government which secured the pay TV rights acquired by BSkyB over and above its competitors.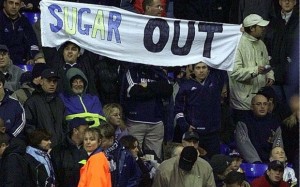 Having been a largely unsuccessful football chairman for a decade, Sugar did not have nice things to say about professional footballers. "If it wasn't for football, they'd all be in prison."
While Alan Sugar was highly critical of The Sun Newspaper for their Hillsborough articles, that did not put him off joining forces with Rupert Murdoch over BSkyB deals. Moreover, Alan Sugar's company made the Satellite Dishes for BSkyB. Later, in 2007, Sugar sold Amstrad to BSkyB.
https://en.wikipedia.org/wiki/Foundation_of_the_Premier_League
http://www.telegraph.co.uk/finance/comment/citydiary/9646732/City-Diary-How-Lord-Sugar-schooled-Rupert-Murdoch-in-digital-media.html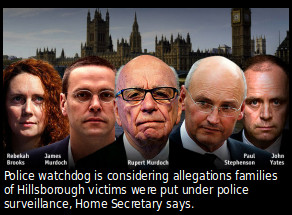 (5). In the aftermath of the Hillsborough Disaster, the phones of some of the families were undoubtedly tapped, but never properly investigated. The families strongly suspect this was Rupert Murdoch's Sun Newspaper, and most certainly, this modus operandi was later to be revealed as a proven tactic used by Rupert Murdoch's News of The World.
http://www.telegraph.co.uk/news/uknews/crime/10633600/Police-tapped-Hillsborough-families-phones.html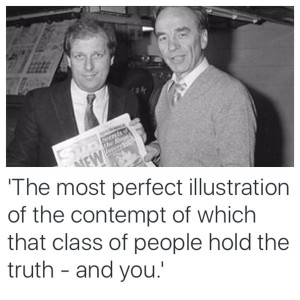 (6). It was Rupert Murdoch's Sun Newspaper, via their editors Kelvin McKenzie and Trevor Kavanagh, in liaison with Sheffield's local Tory MP, Irvine Patnick which did most to smear and damage the reputation of the Liverpool supporters. Outrageous lies were spoon fed to and gleefully accepted by the Sun Newspaper by local Tory MP Irvine Patnick and his own local news agency contacts at Whites. After the second inquest verdict, it was Rupert Murdoch's Times Newspaper which did least in its coverage after the jury verdict of unlawful killing.
http://www.huffingtonpost.co.uk/entry/hillsborough-inquest-verdict-the-sun-kelvin-mackenzie_uk_571f4311e4b06bf544e0a7fa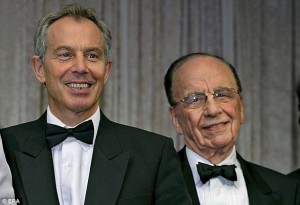 (7). According to Andy Burnham, after The Stuart Smith Scrutiny, Tony Blair did not order Hillsborough inquiry because he did not want to offend Rupert Murdoch. The question has to be asked: Why would Murdoch find a proper Hillsborough inquiry so offensive and why should Tony Blair have been concerned with upsetting Rupert Murdoch?  Murdoch's Machiavellian relationship with Tony Blair was in effect no less corrupt and secretive than it had been a decade earlier with Margaret Thatcher.
http://www.liverpoolecho.co.uk/news/liverpool-news/tony-blair-not-order-hillsborough-9658130
PART 5  – IT'S SWEET F.A. TO DO WITH US
INFERENCE
Senior F.A. officials such as Bert Millichip, Ted Croker, Graham Kelly, Jack Wiseman and Glen Kirton, at best exploited the Hillsborough Disaster for financial gain and/or at worst played a part in the prior planning of the Hillsborough Disaster, possibly on a need to know basis.
Probability Assessment – 90 per cent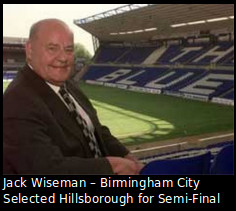 1. The F.A. was responsible for selecting venues for the semi-finals in 1989. They chose Hillsborough for the third consecutive year running,  in the full knowledge that the historically known problems at the Leppings Lane End made the ground unfit for purpose. They knew full well that it was a death-trap waiting to happen. They knew it had been opposed by Liverpool's Chairman and that it had no valid ground safety certificate. The FA ignored prior warning letters sent by fans.
2. At the inquests, the FA's lawyers sought to avoid any responsibility for the stadium selection or safety issues." The inquests heard evidence of problems at all three semi-finals the FA held at Hillsborough in the 1980s, before it selected the ground again in 1989. Absent from the Coroner's directions to the jury, was any  question  probing the role of the Football Association.
https://www.theguardian.com/football/2016/may/10/hillsborough-disaster-fa-serious-questions-ground-safety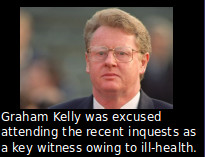 3. The F.A. Chief Executive  Graham Kelly and Steve Clarke withheld important information from Jack Wiseman (above), the man who selected the semi-final venues. This information concerned a prior request insisting Liverpool received a higher allocation of tickets and the larger terrace. In 1998 Graham Kelly was forced to resign as the F.A.'s Chief Executive over financial affairs.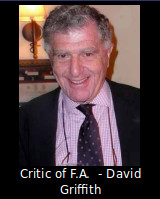 4. THE Football Association appeared to have "total apathy" towards fan safety at the time of the Hillsborough disaster, David Griffith (pictured right), a former senior football figure claimed. He told the ECHO: "This culture of complacency existed all the way through the 70s and 80s. My belief is that it was prevalent at the time of Hillsborough. They would turn up and basically ask:
'What's for lunch?'."
5. Both Ted Croker and Bert Millichip from the Football Association benefited financially from their early involvement with PEL Stadium Seating, a company established by Bert Millichip's long time friend Mike McGinnity, in time to take advantage of the Taylor Report's recommendations.

http://www.playthegame.org/news/news-articles/2002/pel-stadium-seatings-owes-its-success-to-the-hillsborough-disaster/
6. Graham Kelly and Glen Kirton of the F.A. visited the Police Control Box where Duckenfield first put out the lie regarding the "Gates".
Glen Kirton gave early press interviews and he returned to the Control Box later on at least two occasions, quite possibly during the period when Walter Jackson was in his utterly compromised state.The roles played by third parties in spreading the early lies so that announcements by the BBC match commentator Brian Motson were made, have never been solved.
7. Prior to the event, the F.A. insisted on a doctor being at the ground, and Sheffield Wednesday were worried something bad might happen. Bert McGee of Sheffield Wednesday requested the experienced match commander Brian Mole to be present in the Director's Box on the day. However, Brian Mole stayed away, and it is alleged by Chief Inspector Brayford, that C/Supt.Mole said of Duckenfield: "Watch him fuck it up!". C.I.Frank Brayford has intimated that this disaster and cover-up went all the way to Westminster.
A special feature report entitled "INJUSTICE LINKED TO THE 96" completes this "INSIDE OUT – ANALYSING HILLSBOROUGH" article. This feature contains brief summaries  of 96 important entities, all of them  linked in one way or another to the shocking ongoing  injustice  of "HILLSBOROUGH". All ninety-six can be read in full via a separate PDF download.
By way of illustration of the download report, the first five entities appearing on the full list of 96, are as shown below.
However, to view the shocking full report and discover all 96 entities appearing on the list, grouped by police, politicians, corporations, judiciary and some key members of the public, simply download the PDF file from the link provided above.