Trumpets, Torches and Jars
A Good News Letter to Dr. William Thomas, the former President of The Gideons International – 18/09/17 (PDF link)
An Open Letter about The Gideons to Stephen Watson – 30/09/17
Dear Chief Constable,
Good morning and good wishes to you from Ireland. I write to you today feeling almost able to pay my former employers some kind of rare compliment. Coming from me, one of your organisation's harshest critics for the last seven years or so, I ought really to qualify myself by unequivocally stating that such potential praise from me, carries with it, a grave caveat and a dire warning.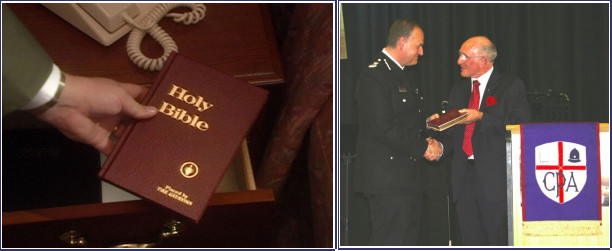 In this year's May edition of The Christian Police Association's 'On and Off Duty', intrigue and a certain degree of hope was gleaned from reading the article below.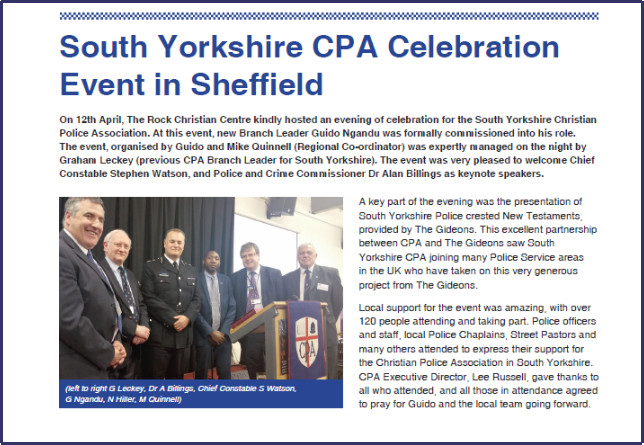 While I am sure Alan Billings' presence on such an occasion would surprise no-one, him being an Anglican Priest, and all that, the mere co-appearance of your Director of Finance, Nigel Hiller, most certainly came as a startle for me. That's because of the nature of our previous encounters regarding my well-documented employment tribunal case from seven years ago. The CPA article above, describes its own relationship with the Gideons as "an excellent partnership". Time alone will tell on that. If I were to momentarily put my former Principal Intelligence Analyst's hat on here, I would have to ask this. How is it possible for you personally to accept a version of The Holy Bible, one which advocates the keeping of God's Commandments and Law, while simultaneously brazenly propagating a bogus terror threat construct which brings misery, suffering and death to millions, if not billions of people worldwide? How can you possibly do this, while knowing full-well that your police force and the wider police service, publicly supported by your rhetoric and actions, break nearly all God's commandments?
God will not be mocked, however. If your collective presence at that CPA / Gideons International celebration was sincere and genuine, and I hope, rather than necessarily believe that to be so, then my recommendation for you would be as follows. To the utmost of your power, do what you can to ensure that those 2,000 gift donations from Gideons International, do not just gather dust on the shelves of South Yorkshire Police office blocks.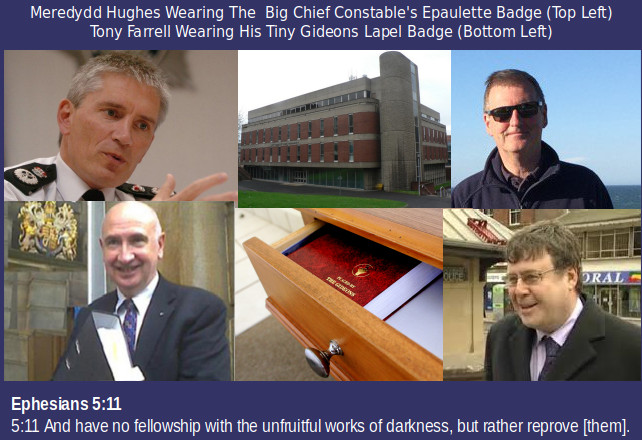 A full seven years prior to your Gideon/Christian Police Association celebration event, as I emptied my own office desk for the final time, I deliberately and purposefully left behind in my top drawer, a Gideons' New Testament Bible. I made that symbolic gesture just as the then Director of Intelligence, Adrian Teague (top right) was simultaneously left reading my specially prepared report entitled "A Rich Picture of an Ignoble Lie or Enabling The One Truth?". It's the report which got me fired before your Gideon / CPA endorser Nigel Hiller (bottom right). This for daring to speak truth to power. At the time of doing that, I just so happened to be an active member of The Barnsley Gideons Branch.
Put simply, fear of breaking The Ninth Commandment, about NOT BEARING FALSE WITNESS superseded any desire to get involved in the unfruitful works of darkness, in your utterly corrupt police service, just to preserve a salary and prolong my seventeen-year-old misspent police career.
Matthew
6:24 No man can serve two masters: for either he will hate the one, and love the other; or else he will hold to the one, and despise the other. Ye cannot serve God and materialism.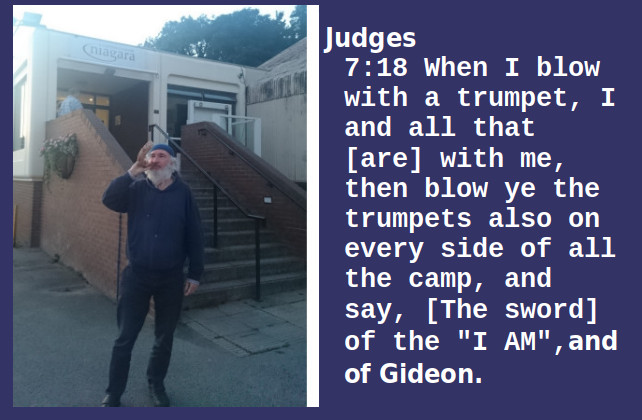 While these days, neither the big SYP 'Justice With Courage' badge, nor my tiny Gideon lapel badge, form any part of my attire, my thoughts nevertheless still often turn towards the character called Gideon, with his God-given torches, jars, and trumpets, and above all else, The Word of God, as given to Gideon, in order to defeat the enemy within the camp. Listen here to the story of Gideon told in Judges 6 to 8.
Finally, in my one and only previous letter to you, entitled 'Not The Poisoned Chalice', dated 10th December 2016, to which you showed NOT any courtesy of a reply, you may have noted that a gift of an 'Elementary' Kind', was offered up to your boss the Police and Crime Commissioner, who also parades around in Sheffield as an Anglican Priest. That gift concerned The White Stone, which you will find mentioned towards the closing pages of your previously issued Gideon Bible gift. All Gideons need to know of this, too.
Revelation 2:17
2:17 He that hath an ear, let him hear what the Spirit saith unto the churches; To him that overcometh will I give to eat of the hidden manna, and will give him a white stone, and in the stone a NEW name written, which no man knoweth saving he that receiveth [it].
In summary, contrary to what you might all think, no police officers from South Yorkshire Police, no member of Gideons International, and no Christian worshippers from Barnsley, will survive what is coming, unless they read and digest the contents of the White Stone which is a book entitled "The Way home or face The Fire".
The Way home or face The Fire
P.S.
The timing of the open release of this letter coincides with this Gideon event facilitated by my former church at Birdwell, where all manner of strange experiences, of a supernatural kind, were had back in 2010, the year I parted company with South Yorkshire Police.
In my 'Rich Picture' report to my bosses, it can be seen that I left my bosses with a final message about putting on the Whole Armour of God. Periodically, I like to remind them all, of that all important message, as can be seen here.
The Whole Armour of God – Ephesians 6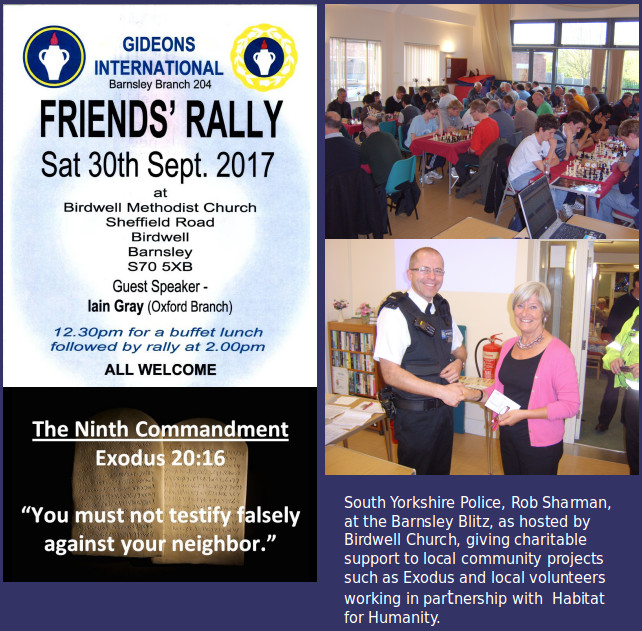 South Yorkshire Police, Rob Sharman, at the Barnsley Blitz, as hosted by Birdwell Church, giving charitable support to local community projects such as Exodus and local volunteers working in partnership with Habitat for Humanity.
A Short Testimony from a Former Gideon – Tony Farrell
While many of my engagements with South Yorkshire Police, both on duty and off, are well-documented elsewhere, seldom have I, until now, given any testimony of my time formerly spent working for The Gideons in Barnsley. However one over-arching memory of that time, somehow seems appropriate to share now, seven years on, as it connects symbolically with the following: the subject of South Yorkshire Police; the role of The Gideons; and the difference between mortality and life. Here below is an honest and true brief account of what happened seven years ago, at a location directly opposite Snig Hill, just a few short months before my dismissal by The Gideons new found friend, Nigel Hiller.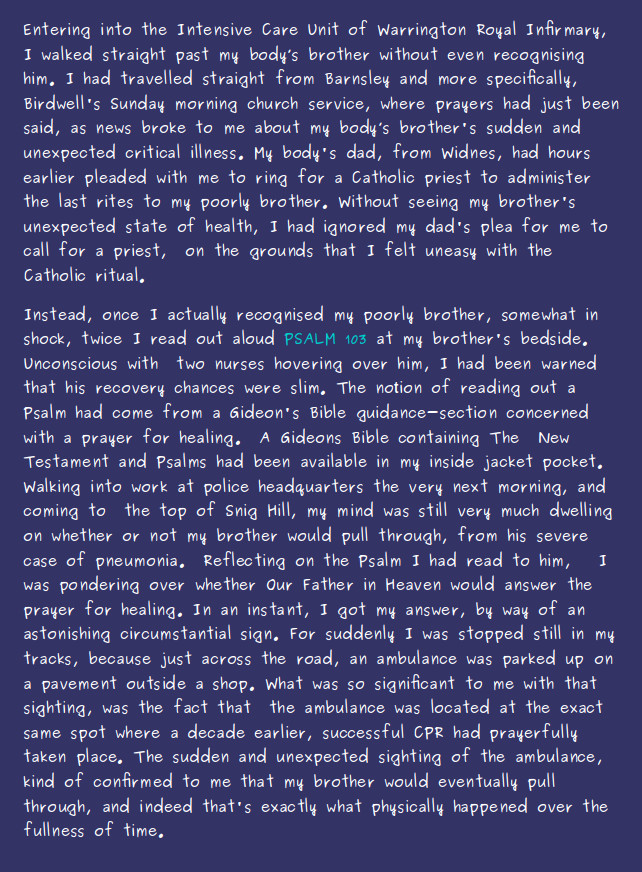 I wish I could be so confident that my former employers will pull through spiritually, and may be with strong leadership, and the help of those Gideon Bibles, and the White Stone of Revelation 2:17, we might just see a genuine wind of change for the good in South Yorkshire Police, and the police service in general. When it comes to getting HOME rather than facing The Fire, it's 'Elementary Stuff', my dear Watson.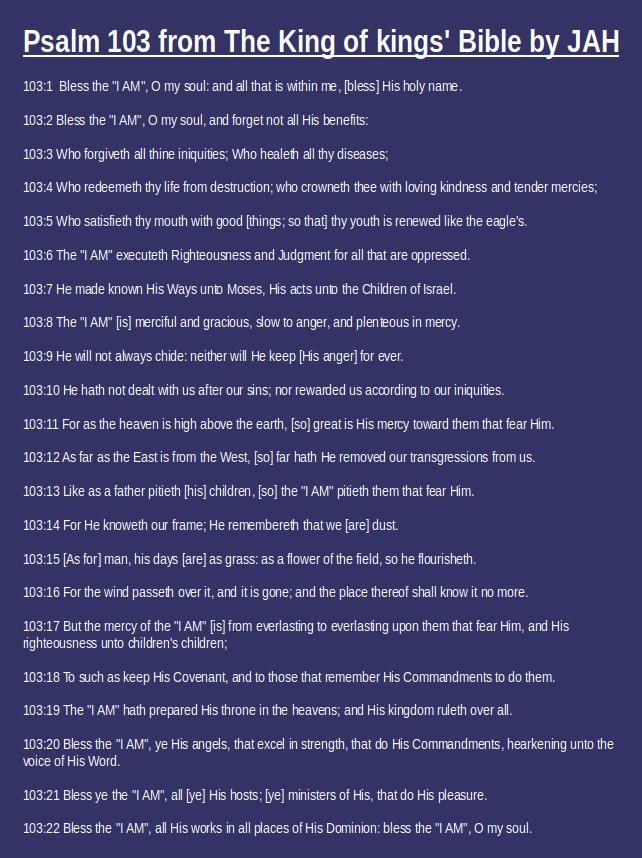 May The Force Be With You
Tony Farrell
Disciple of JAH