Cold Case Cover-Ups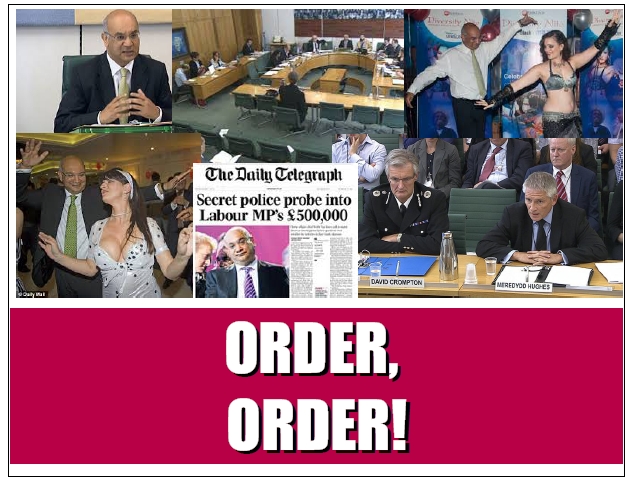 COLD CASE 1 – NOBODY EXPECTS A KEITH VAZ INQUISITION
Watch a Police and Crime Commissioner get vilified by Vaz, and see how a former hapless Chief Constable from South Yorkshire Police, Meredydd Hughes, gets mangled, mauled and traumatised before a Home Affairs Select Committee, in a memorable "Spanish Inquisition" style session. This is selective memory-loss of the highest order!
Learn why there is more to the Rotherham Child Sexual Abuse scandal than meets the eye, and ponder over the role of the current Chief Constable, David Crompton, who, by contrast, gets treated relatively gently, riding on the back of his force's previous questionable raid on Cliff Richards' multi-million dollar mansion. Was this raid a deliberately bungled spoiler, undertaken by a force bolstered in numbers to the tune of 250 of Crompton's plastic coppers? Was it done so that Cliff "Kitty" Richards would be able to claim that, as a result of the adverse-publicity, he could not get a fair trial, and thus get the case thrown-out and get off scot-free?
Discover more about the checkered history of the Chief Inquisitor, "Cardinal" Keith Vaz and understand what he is covering-up in these street theatre charades. Find out why he is part of the problem, and begin to appreciate how the real issues of child-abuse are still being conveniently ignored. When it comes to stamping out nationwide child sexual-abuse and paedophilia, the attention given to Rotherham needs to be replicated and targeted on the government, the political establishment, the judiciary and the police service and so-called royals. Who can we trust to do that, I wonder? Frankly, brothers and sisters, there really is only one very simple answer to all the problems of corruption and Satanic like child-abuse exposed within this film.
While this film should make your blood turn cold, or boil, it should give you hope in so much as within all this horror, sleaze and corruption, there is a very simple solution. Watch and find out just exactly what that solution is. It should gladden your hearts and renew your minds.
KEITH VAZ EXPOSED
Read how "Cardinal Keith", after calling for mass rackings (sackings?) in Rotherham, risks getting the screws turned in on himself, as whistle-blower Farrell attempts to comfort Chief Constable Crompton and reassure a wrangled Shaun Wright, following the pair's torturous ordeal enacted out like a game of charades, on Farrell's very own anniversary dismissal dates of 2nd and 9th September.
Report-to-Crompton-About-Keith-Vaz.pdf
BLITZ ON BINDMANS
Watch and squirm at how the firm of Vaz's longstanding advocate, Ask-a-Nazi counterfeit-Jew Sir Geoffrey Bindman, get its comeuppance by a raucous ram's horn raid, from unexpected quarters. Hung out and drawn in, witness how a blitz on Bindman's Law Firm and their Super Lawyer Tamsin Allen, blows up in the their faces, amidst all sorts of huffing and puffing. See how G4S Securities are breached. Never before in the field of legal misery, is so much stolen from so many, by so few.
COLD CASE COVER-UP 2 – SHEFFIELD THE CORRUPTION CAPITAL OF EUROPE?
"Perception is strong and sig ht weak. In strategy it is important to see distant
things as if they were close and to take a distanced view of close things."
Miyamoto Musashi (c.1584-1645) Japanese Samurai
Martin Brighton, voluntary worker and systems auditor from Sheffield,
articulates his close up and personal experience with public service delivery in
Sheffield City Council and South Yorkshire Police. When viewed from a distance,
Martin's highly eloquent exposition from July 2013, offers compelling  insight
on state of affairs in Sheffield and its South Yorkshire Police partner in
crime.  Watch and decide for yourselves whether the level of alleged corruption
operating within the corridors of power in Sheffield, justifies England's fourth
largest city getting the title of corruption capital of Europe bestowed upon it.