SODOMLOT II
Dear Ian,
Your interest in football contrasts starkly with my interest in rugby.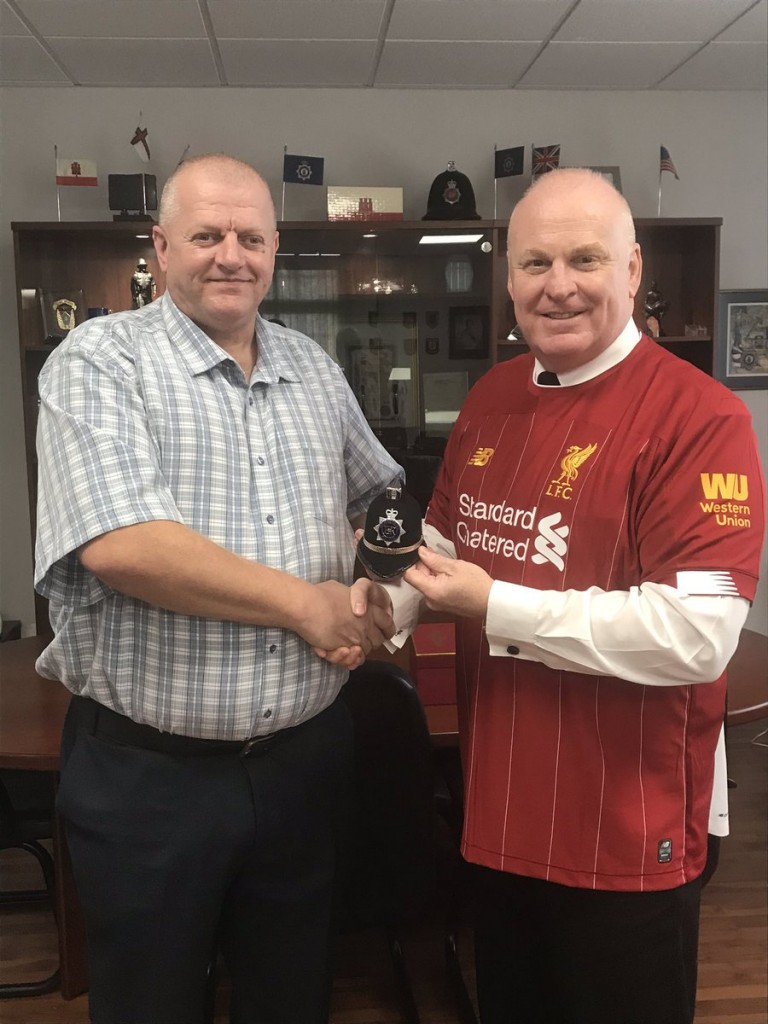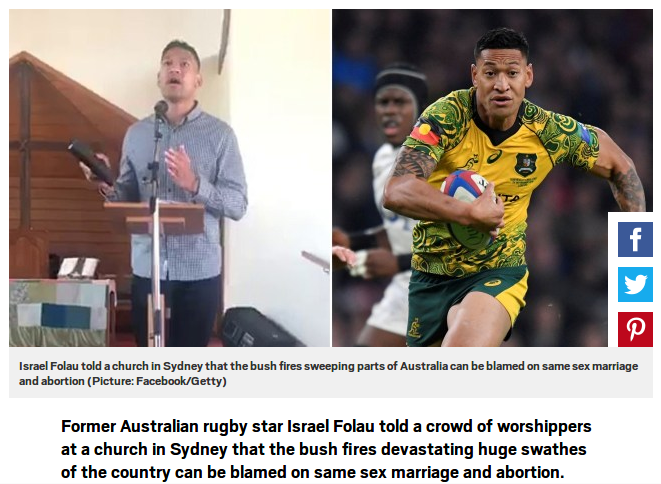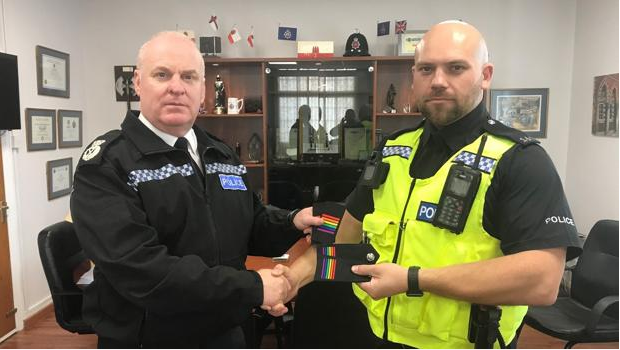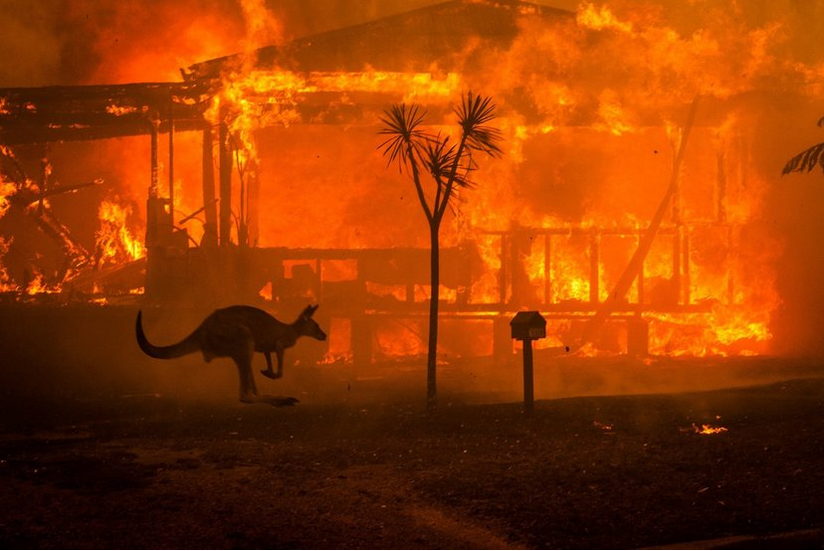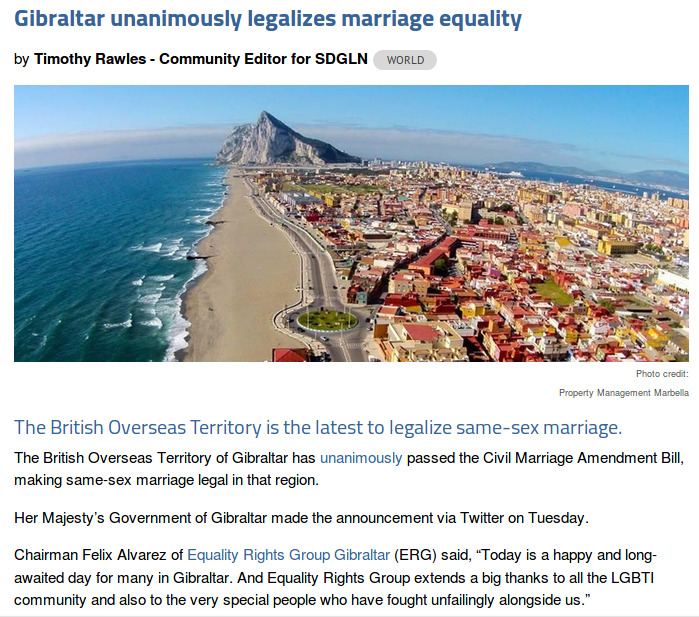 SODOMLOT I
Here in SODOMLOT, systematic and concerted attempts to mock CHRIST by the LGBTI community have increasingly become the norm during the first part of the 21st century A.D.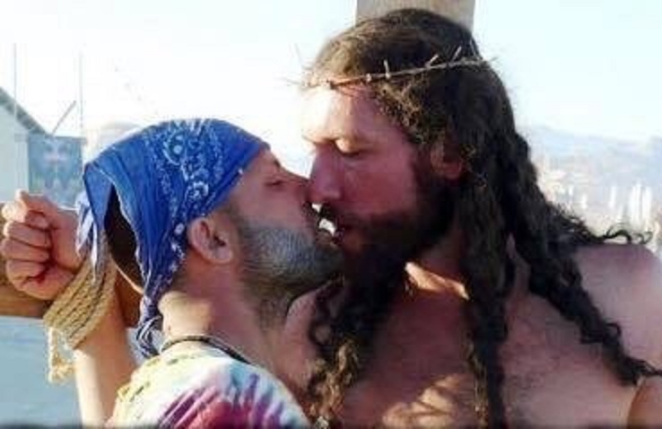 First and second commandments notwithstanding, here in SODOMLOT, LGBTI campaigners from many of the major cities throughout the world, poke fun at and seek to undermine the teachings of The Holy Bible.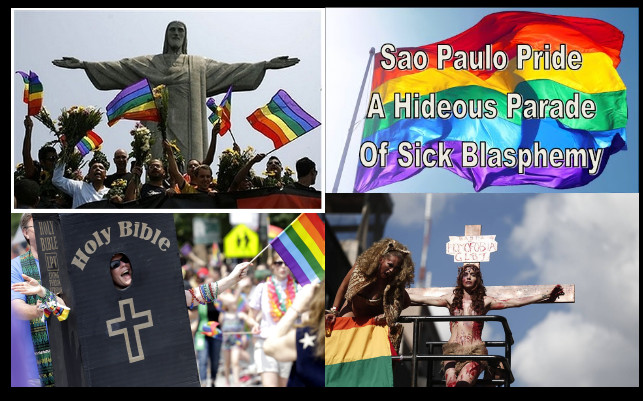 In this context, and again in many parts of the world, so-called Muslims seem no different from so-called Christians, for here in SODOMLOT, the LGBTI fraternity all too readily flaunt their sexuality in the name of ISLAM, while knowingly being in total defiance of the teachings of The Holy Koran.

Here in UK SODOM, political parties suspend people for prophetically speaking out in condemnation as to how conduct on PRIDE marches will harm our children.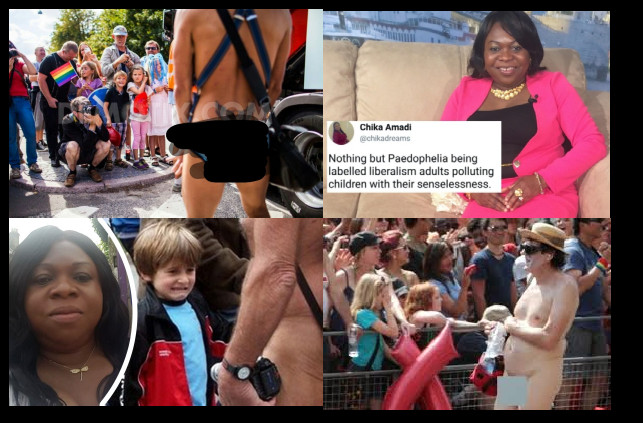 Matthew
18:6 But whoso shall offend one of these little ones which believe me, it were better for him that a millstone were hanged about his neck, and [that] he were drowned in the depth of the sea.
Also here in UK SODOM, citing of Holy scripture, is evidently a bigger issue for police than the indecent exposure of genital flashing naked adults. It matters not to police, even when they strut their stuff in the birthplace city of the body of CHRIST in His Second Coming.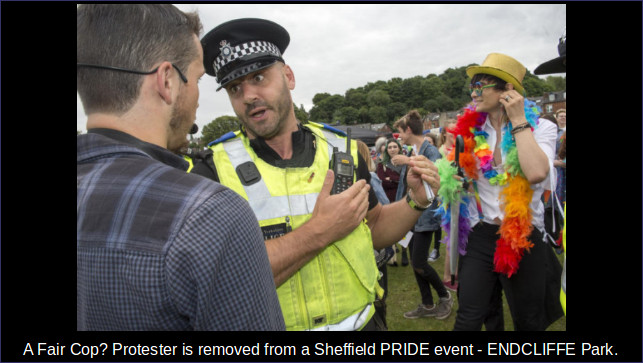 Signs are that at Endcliffe Park, Sheffield, it's not just the Police Service who are actually falling off the end of a cliff. When it comes to discerning right from wrong, many of our prideful youth, and our proclaiming Christians, are seemingly faring no better.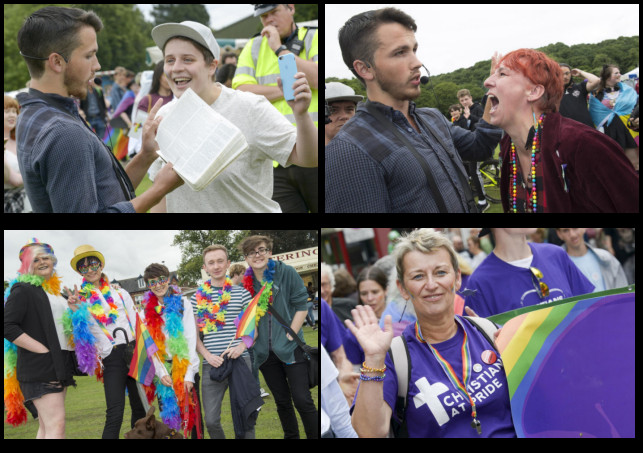 Proverbs
16:18 Pride [goeth] before destruction, and an haughty spirit before a fall.

Elsewhere, in England's capital city, at the top of the "Boys in Blue" pyramid, an elfish petite femme and lesbian called "DICK" plies her trade. Dick's promotion occurred against a back-drop of her role in the brutal assassination of Jean Charles De Menezes, and its subsequent cover-up. Note well that this dastardly deed occurred shortly after the 7/7 False-Flag London Bombings in July 2005. It gets much worse though, for one only has to glimpse above to witness how the lower ranked lesbian coppers from her bent and corrupted Scotland Yard, would much sooner pervert the peelian uniform, by frivolously puffing away on their yellow and pink whistles, rather than doing their job properly and arresting naked genital-flashing adults for indecent exposure. Even when young children are present, and with paedophilia running rife in places like Sheffield and Rotherham, the police service seemingly now show wilful blindness to the shocking and hideous sexual criminality evidently on show.
But here today in UK Sodom, "The Rank and Vile Agents of the Law", in a far cry from the 60's British soap-opera era of Z-Cars and Dixon of Dock Green, brazenly adorn and idolise such abominable false idols with rainbow coloured PRIDE labelled livery. And if stating such home-truths amounts to Hate Crime, by their erroneous definitions, then so be it.

From one "DICK" to another, contrary to what a TV Celebrity, and former senior police commander of the Metropolis might wish to claim, the thin blue line is broken, almost irreversibly so, and the only thing Mr. PADDICK has fixed in his chequered past is a Faustian Pact with Satan. Paddick's unwarranted and seedy influence on British Policing has helped plunge our now not-so "Peelian-Principled" Police Service into an absolute moral abyss.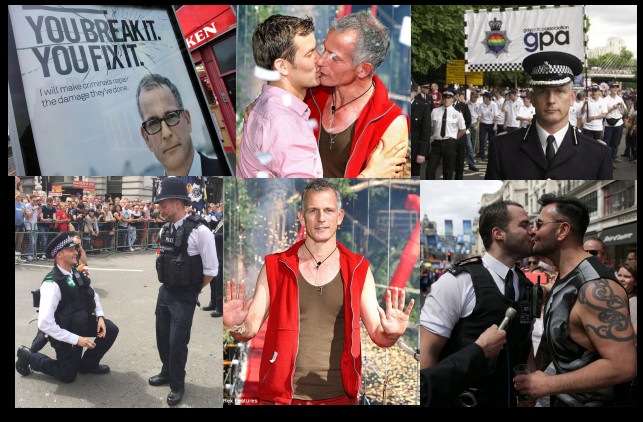 Here also in UK SODOM, it should not go unnoticed that one particular police force; notorious for not only its wider corrupt ways, but also its woeful historical performance in not dealing properly with Child Sexual Abuse on an industrial scale; were not backward in coming forward in wanting to change the face of British policing and fill its boots with PADDICK and DICK like officers.

Over two decades on from the above advert in GAY TIMES, and South Yorkshire Police remain clueless as to why some people in South Yorkshire are quite naturally wanting to take "The Law" into their own hands. This concerns eradicating the current paedophilia epidemic from within its midst. It's not as if South Yorkshire Police has not been given a fair word of warning on the matter. Last year, CHRIST, in His Second Coming, gave the South Yorkshire Police and Crime Commissioner the one and only solution which could work. Suffice to say, our increasingly SODOMIZED police service again showed wilful blindness, and in so doing, they merely open the floodgates for paedophilia to prosper and flourish.
Neither do our politicians fare any better than senior police, sadly. For here in UK SODOM, any individual political party leader bold enough to stand against the party-line, and openly profess a monotheistic faith, is almost guaranteed to capitulate and betray Holy Scripture. Former Liberal Democrat Leader Tim Farron is a classic case in point. Putting politics before principles has become the norm, and when it comes to treating The Word of God, as given to us in The Bible, with all due respect, such false pretensions of faith, when not backed up by action, serve to hinder rather than help God's cause.

Inside UK SODOM's Westminster, politicians flaunt their lewdness, while collectively covering-up child sexual-abuse and allowing it to languish within their corridors of power.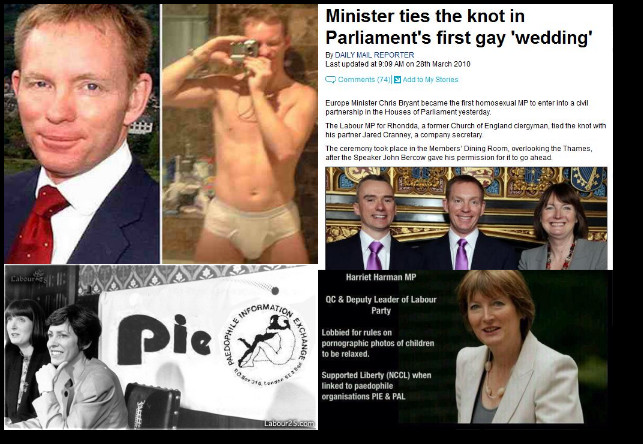 All parties are equally at fault, for here in UK SODOM, everything gets turned on its head, as demonstrated earlier this year, when a former vice-chairman of The Tory Party, made comments about his Biblical beliefs during a question and answer session, at a college ironically named CHRIST THE KING.
This happened when one young female student, describing herself as a "passionate campaigner for LGBT rights", asked a local MP if he was involved in the Isle of Wight's first ever Pride event. Esther Poucher (pictured left and middle below) said she was shocked to the point of outrage by Andrew Turner's position ( pictured right below).
"He thinks that homosexuality is 'wrong' and "dangerous to society'," she wrote.
"At this answer, I had to leave. It's terrifying that in this age and point in our development as a society, there are still people that can't care enough about a person's well-being to just accept who they are. And the most terrifying thing is that we as an island consistently vote him in to represent us."
What subsequently followed was an alarming and cowardly capitulation of a sixty-four year old grown-up adult, in the face of being criticised by a young teenage girl. The MP resigned, thereby rendering his position with respect to his faith as worse than ineffectual.
Isaiah 3
3:9 The look on their face doth witness against them; and they declare their sin as Sodom, they hide [it] not. Woe unto their soul! for they have rewarded evil unto themselves.
3:10 Say ye to the righteous, that [it shall be] well [with him]: for they shall eat the fruit of their doings.
3:11 Woe unto the wicked! [it shall be] ill [with him]: for the reward of his hands shall be given him.
3:12 [As for] My people, children [are] their oppressors, and women rule over them. O My people, they which lead thee cause [thee] to err, and lead thee astray, to thy destruction.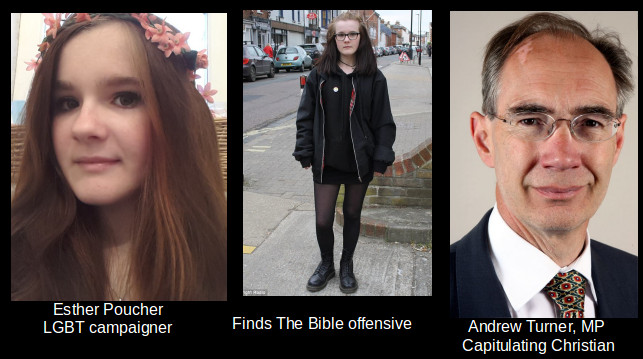 Contrary to what Esther Poucher says about our development as a society, we have become nothing more than a back-sliding nation, resembling the corrupters, as mentioned in Isaiah 1.
Isaiah 1
1:2 Hear, O heavens, and give ear, O earth: for the "I AM" hath spoken, I have nourished and brought up children, and they have rebelled against Me.
1:3 The ox knoweth his owner, and the ass his master's crib: [but] Israel doth not know, My people doth not consider.
1:4 Ah sinful nation, a people laden with inequity, a seed of evildoers, children that are corrupters: they have forsaken the "I AM", they have provoked the Holy One of Israel unto anger, they are gone away backwards.
1:5 Why should ye be stricken any more? ye will revolt more and more: the whole head is sick, and the whole heart faint.
1:6 From the sole of the foot even unto the head [there is] no soundness in it; [but] wounds, and bruises, and putrifying sores: they have not been closed, neither bound up, neither mollified with ointment.
1:7 Your country [is] desolate, your cities [are] burned with fire: your land, strangers devour it in your presence, and [it is] desolate, as overthrown by strangers.
1:8 And the daughter of Zion is left as a cottage in a vineyard, as a lodge in a garden of cucumbers, as a besieged city.
1:9 Except the "I AM" Lord of hosts had left unto us a very small remnant, we should have been as Sodom, [and] we should have been like unto Gomorrah.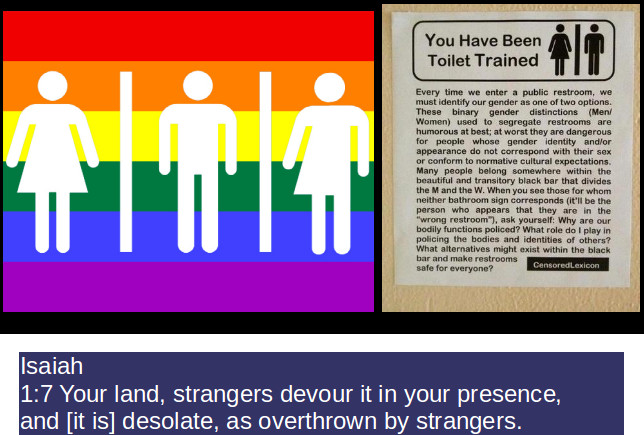 Elsewhere in SODOMLOT, a famous liberal-progressive, pro-homosexual Jesuit media priest is well versed in publicly contradicting Bible teaching, as he provocatively tweets Satanic nonsense about transgender washrooms and education.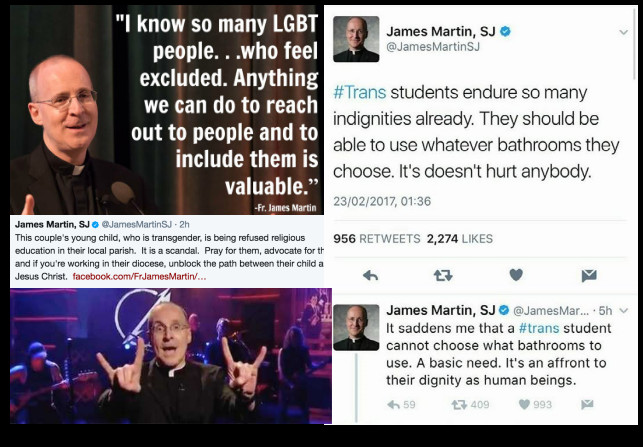 Here in UK SODOM, perhaps the most well-known active LGBTI campaigner and paedophile apologist, so named Peter, exerts pressure on the Anglican Church to relax any token resistance it may still hold in opposition to an increasing crescendo of SODOMITE sound-bite demands.

But in response to such pressure, here in UK SODOM, two very prominent leaders within the Satanic priesthood, both operating within The Church of England, clearly don't know the difference between an "Arthur" and a "Martha" when it comes to what The Holy Bible has to say about the sinful and vile nature of homosexuality/sodomy.

Read John Sentamu's shaky and erroneous position here.
Read about Bishop James Jones' shifting and increasingly erroneous position here.
Meanwhile to top it all, up in Scotland, probably in a test to see how far the Anglican Church can impose the LGBT agenda on the fast asleep British public, we have an Anglican Priest and LGBT campaigner actually declaring that we should Pray for Prince George to be gay/a sodomite.
To back this up, the Bishop of Buckingham, Dr Alan Wilson, told The Times: "At some point in the future, if a member of the Royal Family were to turn out to be gay and want to get married, it would be an interesting conundrum."
"We should Pray for Prince George to be gay."
Writing for PinkNews, the Bishop of Buckingham, Dr Alan Wilson, says allowing same-sex couples to marry enriches the public understanding of what it means to be married.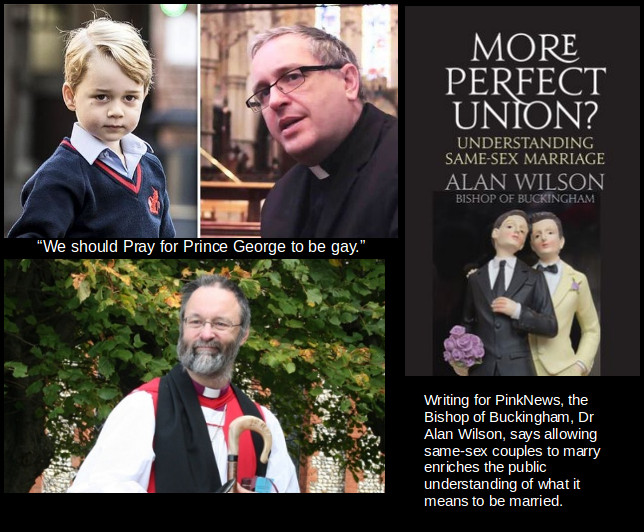 Here also in UK SODOM's Metropolis, a current Mayor and former Mayoress both gleefully show off their sinful puffed up PRIDE. The former, who purports to be a Muslim, utterly betrays faith and trust in FATHER/ALLAH by showing how he demonstrably loves LGBT rights, and the latter, Fiona Woolf sartorially dressed in sheep's clothing, amply demonstrates why her reign as the chairperson of the inert and inept Independent Inquiry into Child Sexual-Abuse, was so short-lived.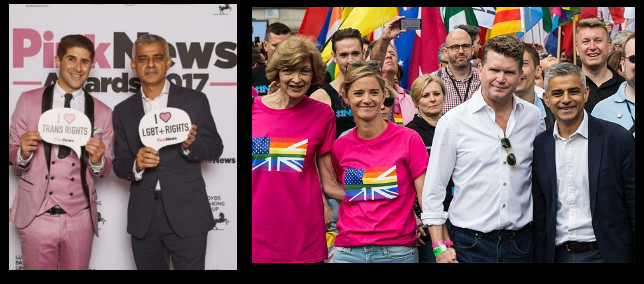 Down under in SODOMALOT, a world famous former sports celebrity gets branded a bigot, for holding true to her Bible beliefs, in opposing same-sex marriage.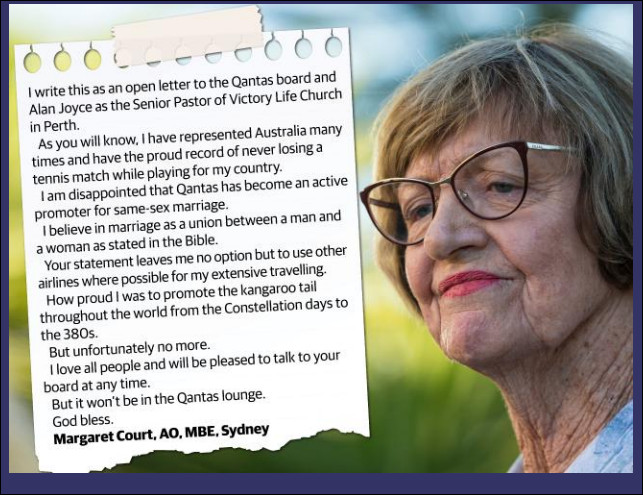 However, to notable liberal-minded lesbian tennis players of her era, like Billie-Jean King, and Martina Navratilova, Margaret Court's belief in Biblical Truth and a willingness to take personal action in defence of The Word of God, is deemed deeply offensive.

Isaiah 5
5:20 Woe unto them that call evil good, and good evil; that put darkness for Light, and Light for darkness; that put bitter for sweet, and sweet for bitter!
Momentarily staying with the theme of flying rackets, back here in UK SODOM, one may get away with secretly questioning why a star-spangled American flag at Wimbledon flutters and then falls to the floor during Serena Williams' gold medal ceremony in 2012, but it would be taboo and politically incorrect to so much as dare to speak one's mind on such a deeply suspicious racketeering matter. After all T.H.E.Y. would not normally think twice of doing a Joan Rivers on any loose lips.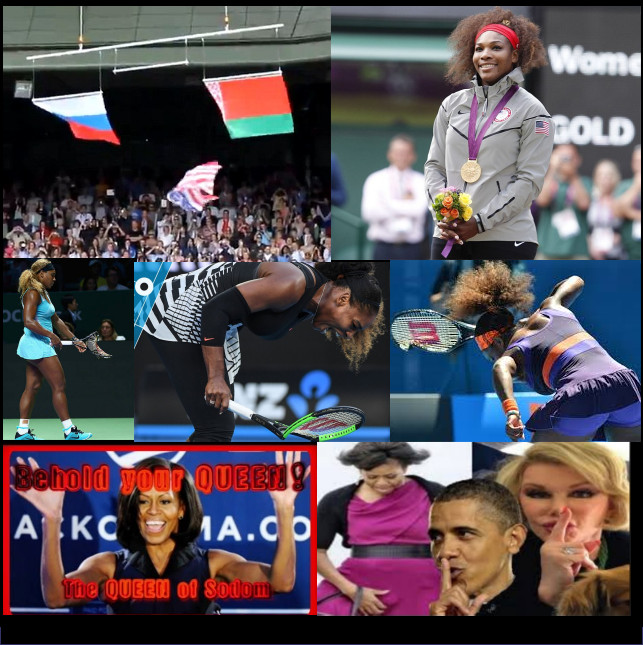 But shush, elsewhere in SODOMLOT, in a place called Orlando, crisis actors galore are very well-paid to help control and regulate public consciousness and thinking, in order to usher in a Satanically inspired LGBTI agenda.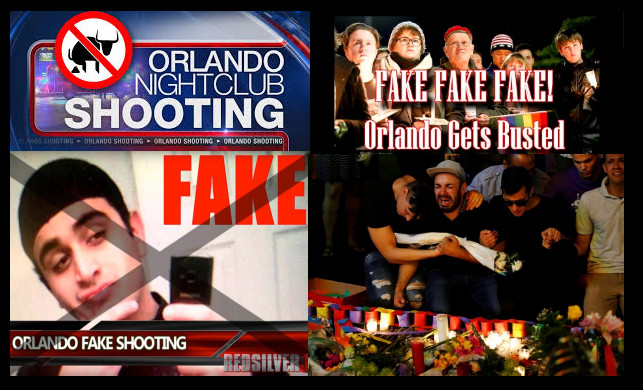 Finally, from Corpus Christi, to L.A. on a dare, we have below perhaps the most repulsive example of all in the eyes of God. A few years ago, a new born baby was christened by the name of "ELIJAH JOSEPH DANIEL". Listed on the baby's birth certificate as mum and dad was David Furnish, and his SODOMITE pop idol partner Elton John. Absent from the birth certificate was the name of the surrogate mother who was recruited from a Los Angeles-based Surrogacy centre. The mother received £20,000 for the deal. A source from the centre said: "[The surrogates] do it so they can bring joy and light (?) to married and gay (sodomite) couples who wouldn't otherwise be able to have children." Sir Elton John, his partner David, all homosexuals/sodomites, plus those involved in Surrogacy practice for SODOMITES, need to take heed of what The Real ELIJAH has to say on the matter and no late Bernie Taupin lyrics will help young Elijah Joseph Daniel to know the difference between right and wrong.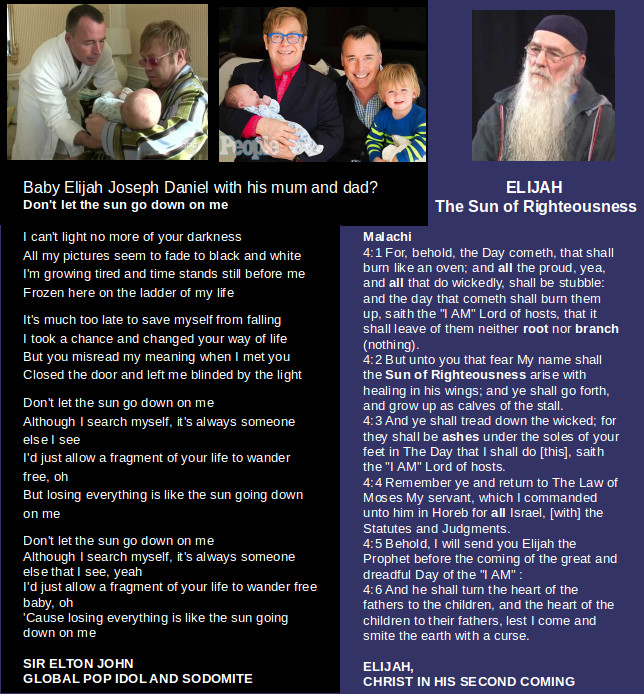 For anyone who foolishly considers this article as an act of HATE CRIME, I would urge you to desist and encourage you instead to read the following two articles.
Sodom-Controlled Hollywood on Being Gay: It's Okay THEY Say