All The President's Men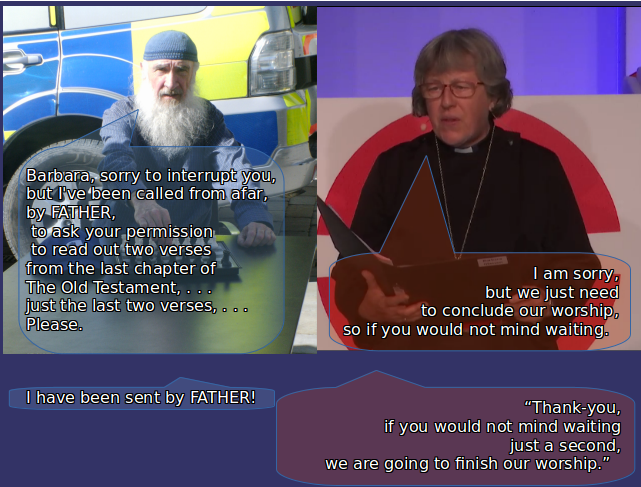 7th JULY 2019
Dear Barbara,
Below is quite a prophetic quote of yours as the new president.
"I have come to dread the words that kind people say, 'You can't miss it Barbara!'. In my experience you can miss ANYTHING."
While these were your words, not mine, I can say with absolute confidence that you did indeed miss SOMETHING last Sunday.
My purpose in writing to you like this, is to explain what that "SOMETHING" was, that you missed.
For last Sunday, in your moment of choice, you dismissively, if not disdainfully, declined to have read out, as per my polite request, a vitally important message from scriptural verses from the final chapter of The Old Covenant. Just prior to invoking such an ominous omission, you had talked much about Glasson's ways with your dad, and little about Christ's WAY with His FATHER, in your sermon on Pendigo Way.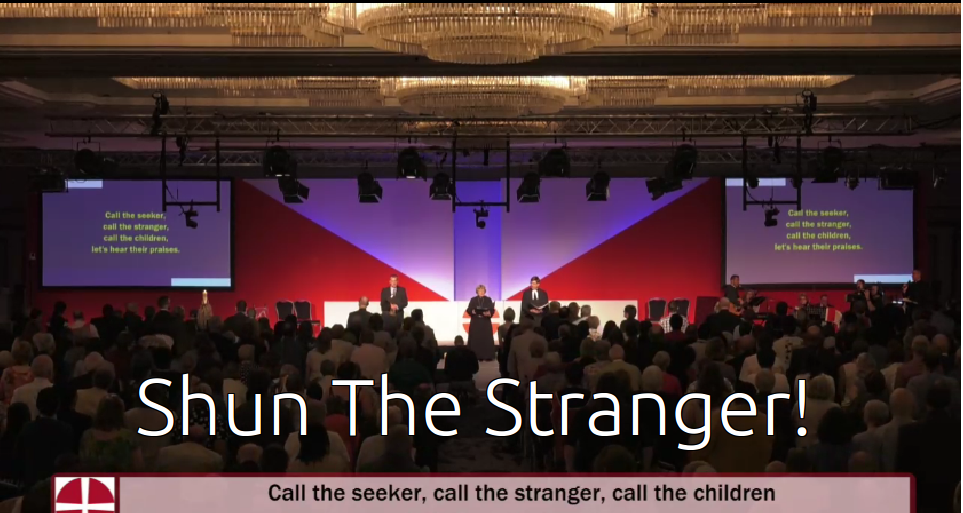 The fact is, Barbara, not only did you miss it, but you, as President, with Satan's help, made pretty damn sure that everyone, ranging from your diaconal deacons to your Methodist Conference live streaming viewers, missed it too. In short, the entire flock, stock and smoking-barrel, jolly-job-lot-of-them missed out, thanks to you.
Sadly, the huge significance of the blocked Holy Bible verses about ELiJAH, the prophet, and their direct relevance to Methodism's modern day "churchianity", is evidently completely lost on you, as their uppermost blind-guide, who seems hell-bent on leading so many of the
flock astray, to eternity in the Lake of Fire WITH YOU.
Matthew
23:24 [Ye] blind guides, which strain at a gnat, and swallow a camel.
Last week, your antipathetic actions in shunning this stranger in spite of bellowing out the verses of a hymn which implored you all to call the stranger, when that said stranger, was there to deliver a message from Father, were as unpleasant, as they were abrupt, and Satanic.
So without further ado, please permit me to remind you of the appropriate verses in question.
Malachi
4:1 For, behold, the Day cometh, that shall burn like an oven; and all the proud, yea, and all that do wickedly, shall be stubble: and the day that cometh shall burn them up, saith the "I AM" Lord of hosts, that it shall leave of them neither root nor branch (nothing).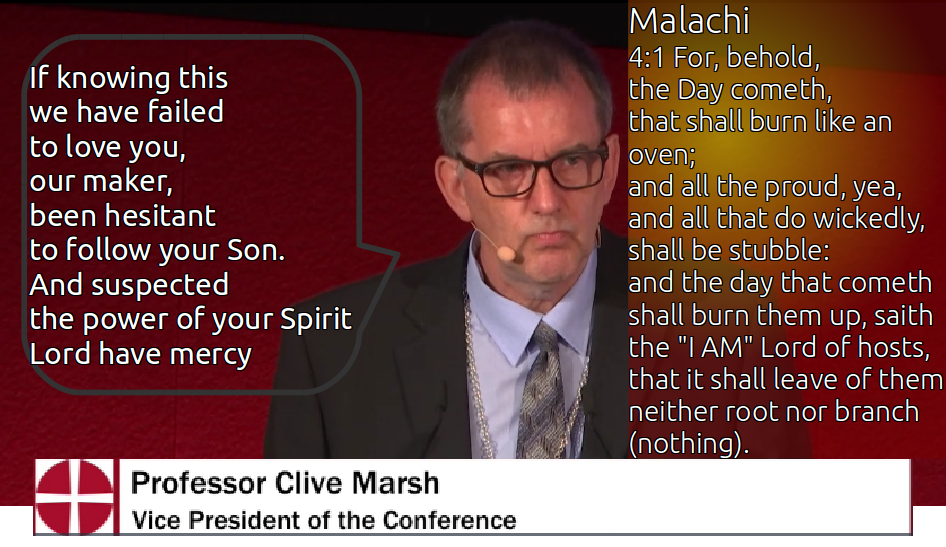 4:2 But unto you that fear My name shall the Sun of Righteousness arise with healing in his wings; and ye shall go forth, and grow up as calves of the stall.
4:3 And ye shall tread down the wicked; for they shall be ashes under the soles of your feet in The Day that I shall do [this], saith the "I AM" Lord of hosts.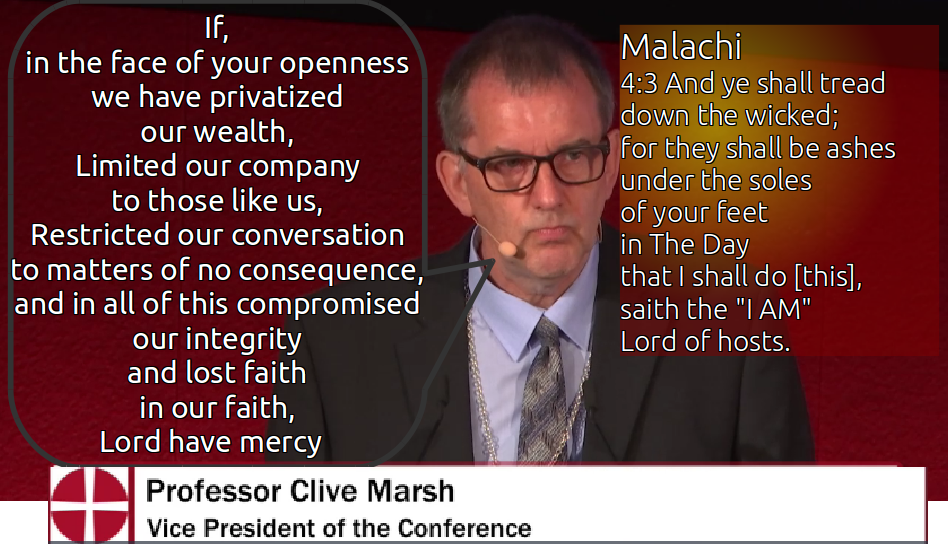 4:4 Remember ye and return to The Law of Moses My servant, which I commanded unto him in Horeb for all Israel, [with] the Statutes and Judgments.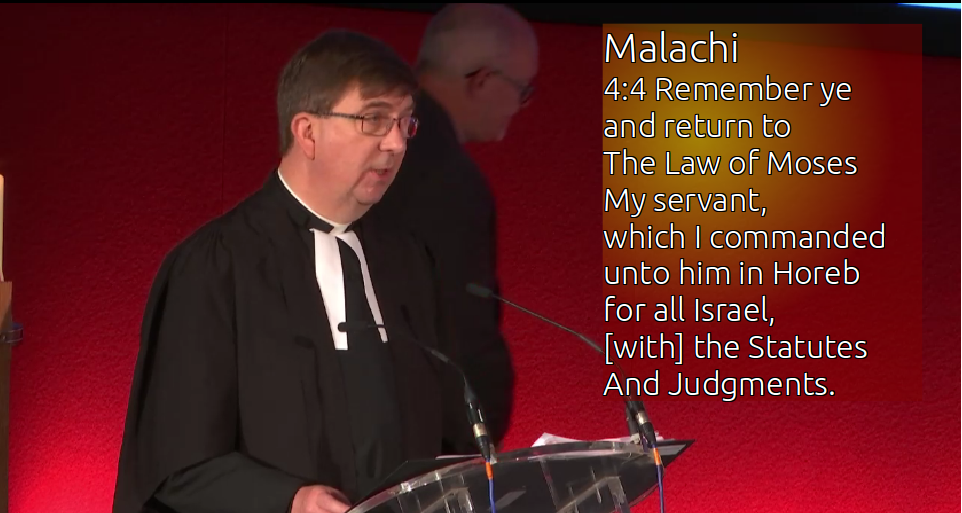 4:5 Behold, I will send you Elijah the Prophet before the coming of the great and dreadful Day of the "I AM" (Sura 43:61):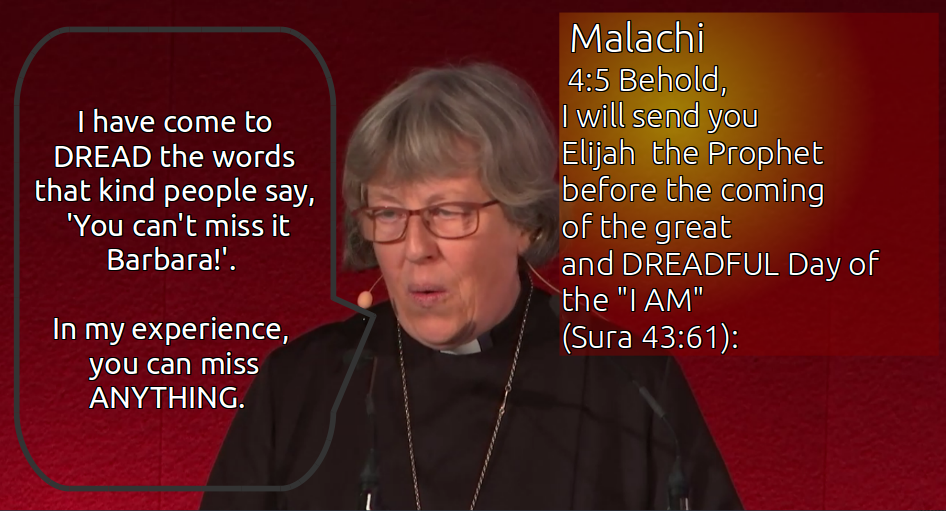 4:6 And he shall turn the heart of the fathers to the children, and the heart
of the children to their fathers, lest I come and smite the earth with a
curse.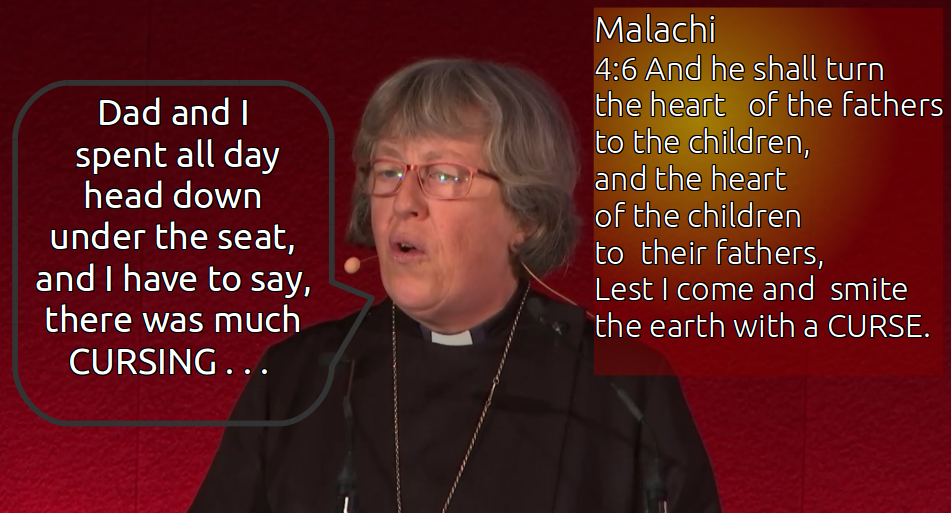 Before your Sunday morning service, owing to my previous experiences within the Sheffield District, I took the opportunity to speak very briefly with two female members of the cloth. Gill Newton and Catrin Harland are the two names of the females in question. Both these females have been repeatedly informed by me, about the fact that the Second Coming of Christ, is here already. While the former, the current Sheffield District Chair shunned me when I first asked her for a meeting, the latter, a Sheffield University Chaplain, at least extended the courtesy to listen and politely engage in a friendly and non hostile manner.
Furthermore, moments after your discourteous dismissal of Father's words, I duly spoke with, and then subsequently wrote to, two cheerful chaplains named Stephen Radford, and David Alderman. Both indicated to me, a desire to raise those scriptural verses at the conference. Whether they did or not, or whether they were blocked like I was, is another matter, however, so far at least, they have gone all silent.
Upon hearing my report of the above events, Christ / JAH / EliJAH / Crown Prince Michael, The Archangel / added a verse taken from the prophet Isaiah to the list of scriptural verse messages which would have been appropriate for all your congregation to hear.
Isaiah
3:12 [As for] My people, children [are] their oppressors, and women rule over them. O My people, they which lead thee cause [thee] to err, and lead thee astray, to thy destruction.
Your destructive actions last Sunday followed a long-line of similar blunders made by Methodist Church leaders past and present, and far and wide.
Listening intently to your own sermon last Sunday, while browsing through the words of selected hymns, it becomes nigh impossible to reconcile your deeds with many of the lyrics on show.
Since my return to Gibraltar, I have learned from my intelligence sources, that one said Methodist Minister, located here on The Rock, named Fidel, was actually struck dumb for a time during his Sunday sermon, which simultaneously took place while you were doing your worst to block Father's message in Birmingham. Ironically, whether he knows it or not, Father was punishing Fidel given the fact that the Methodist Minister has gone to some extraordinary lengths to block messages associated with a dumb-struck Old Testament prophet named Ezekiel. Such messages were only meant for to make sense during these end-times.
Ezekiel
21:25 And thou, profane wicked prince of Israel, whose day is come, when inequity [shall have] an end,
21:26 Thus saith the Lord "I AM"; Remove the diadem (sovereignty), and take off the crown: this [shall] not [be] the same: exalt [him that is] low (Line of Zarah), and abase [him that is] high (Line of Pharez).
21:27 I will overturn, overturn, overturn, it: and it shall be no [more], [overturned] UNTIL he come whose Right it is; and I will give it [him – Shiloh (Gen. 49:10)].
The Gibraltar Methodist Minister in question, has repeatedly shunned Christ's messengers like me, who were directed to him by Father, in order to help Fidel and his congregation hear Christ's messages, at a time when Christ is actually on Earth in the here and now.
The following links are for your enlightenment. Please do not miss it, again.
Close Encounters of a Three-Way Kind
http://jahtalk.thefarrellreport.net/vision-on-the-rock/
Once To Every Man and Nation
http://jahtalk.thefarrellreport.net/vision-on-the-rock/once-to-every-man/
Seven Hills Churchianity
http://jahtalk.thefarrellreport.net/seven-hills-churchianity/
You and the rest of your blind-guides simply can't see it, any of it, not one of you, so, yes, Barbara, dread it just as you are indeed missing it.
In fulfillment of John 16, gatekeeper, Fidel Patron, much preferring to show loyalty to the Methodist Church, rather than Christ, rudely blocked kind Fatherly messages intended for him and his congregation to hear and inwardly digest. Last Sunday, you did likewise, and it's my duty as a messenger to "lovingly give it a go" and tell you so.
John 16
16:1 These things have I spoken unto you, that ye should not be offended.
16:2 They shall put you out of the churches: yea, the time cometh, that whosoever killeth you will think that he doeth God service.
16:3 And these things will they do unto you, because they have not KNOWN the Father, nor me.
Below is an email previously sent to two of your Ministers named Stephen and David, respectively. You would do well to study the email below, and with respect, may I suggest you apologise to Christ for your major part in blocking out the light of Christ, from the flock you are so destructively leading astray from Biblical Truths.
Peace be within you and upon you.
Tony Farrell
Disciple of Christ in His Second Coming
Dear David,
Good afternoon and good wishes from Gibraltar.
Firstly, thank-you for the friendly manner in which you approached me on Sunday,
after the completion of the reception service. Your intervention afterwards was
appreciated.
Secondly, you may also have gathered that Stephen Radford who also kindly
intervened, knew me and remembered me from my time spent in the Barnsley Circuit
which was over ten years ago.
Upon returning to The Rock yesterday morning, I have since written to Stephen to
thank him for his friendly and helpful interaction. After overnight prayerful
reflection, I deem it appropriate to share with you exactly the same message as
given to Stephen. So, please read and digest my email to Stephen, as copied
below. I would very much encourage you to click on the links within, so as to
understand exactly why Father was calling me to deliver an important message to
the Methodist Conference in Birmingham in 2019, by reference to EliJAH and the
last two verses within the Old Covenant.
Father willing, my next email will be addressed to the new President, Barbara
Glasson, as I feel duty bound to explain to her how she 'missed it' again, on
Sunday.
Finally, during last week's excursion to the UK, I had cause to visit the
Bristol area and so took the opportunity to visit Glastonbury Abbey, and the
Isle of Light, where yes, those feet in ancient time, did walk upon England's
mountains green, and where the holy Lamb of God, on England's pleasant pastures,
was indeed seen.
You have it confirmed from CHRIST, Himself, as given in the link below.
Glastonbury Summerland
http://jahtruth.net/glaston.htm
Peace be within you and upon you.
Tony Farrell
——————————-
Original Message
——————————-
Subject: On The Way to Emmaus Again
From: "Tony" <[email protected]>
Date: Wed, July 3, 2019 12:34 am
To: [email protected]
Cc: [email protected]
——————————————————————————–
Dear Stephen,
Good evening and good wishes from Gibraltar.
I am writing separately to you and David Alderman following the incident which
occurred towards the end of the "Reception into Full Connexion and Conference
Worship" session on Sunday morning in Birmingham.
Firstly, thank-you for your interest and encouragement in the immediate
aftermath of my brief engagement with Barbara. Your intervention afterwards was
appreciated. After we spoke together, time did not permit me to stay for too
much longer, as I was on a very tight schedule travel-wise, but several
attendees came up to ask me inquisitively about those verses.
Malachi
4:5 Behold, I will send you Elijah the Prophet before the coming of the great
and dreadful Day of the "I AM" (Sura 43:61):
4:6 And he shall turn the heart of the fathers to the children, and the heart of
the children to their fathers, lest I come and smite the earth with a curse.
One attendee, not previously known to me, in particular, expressed to me
disquiet about the manner in which Barbara Glasson treated my request to give a
message from Father, even though Barbara had been told that I'd been sent to
Birmingham from a land afar, to read out these specific words from Holy
Scripture
at the conference.
At the beginning of her sermon, comedienne Barbara, spoke these prophetic words.
"I have come to dread the words that kind people say, 'You can't miss it
Barbara!'. In my experience you can miss anything."
It is my submission that barely less than half an hour later, Barbara, not only
missed "IT", but more seriously, your new president made sure that others at the
conference missed "IT" too. It refers to the vitally important message that
Father gave me to impart to you all, from the last two verses of the Old
Covenant, about ELIJAH the prophet, Who is the Second Coming of Christ.
Barbara in her sermon talked much about HER way, rather than Christ's.
"Dad and I, spent all day head down under the seats, but at the end of the day,
my dad and I had a really good friendship. What is the way? It's like that. It's
about lovingly having a go at something. Lovingly wanting to do your best and
finding a relationship of trust and love. So how do we find it, The Way? Thomas
was so confused. How do we know where you are going? How do we know The Way? And
the answer at one level is quite simple. 'We set off!'".
Upon notifying JAH*, about the turn of events on Sunday, JAH merely mentioned
Isaiah 3:12 to me, with reference to your new President.
Isaiah
3:12 [As for] My people, children [are] their oppressors, and women rule over
them. O My people, they which lead thee cause [thee] to err, and lead thee
astray, to thy destruction.
Here below is how I first alerted JAH to Sunday's turn of events, with
particular reference to my two brief encounters with you.
"I had a nice encounter with STEPHEN RADFORD, whom I knew and really liked from
Sheffield/Barnsley. Stephen said he would do what he could to bring this
scripture to the attention of the leadership team, and get it read out at some
stage during the conference. He wanted me to stay, but I had a tight schedule. I
have a good reason to write to the president and others, with a JAHTALK article.
I am hoping that my brief interaction with Barbara was recorded. She was not
nice to me."
On Monday, after further reflection while travelling on the bus to Cardiff, I
saw fit to elaborate further about you to JAH, as can be seen in my subsequent
email to Him, as detailed below immediately after this email.
I will shortly be writing to Barbara Glasson, in order to inform her of the
serious nature of her decision-making on Sunday, in denying the words Father
placed upon my shoulders to share with you all. Barbara's decision flew in the
face of hymns used within the service. I mention just two here, but I could have
easily mentioned more.
"Make us your prophets, Lord, who truly hear your word, which fires us with your
Spirit's inspiration."
"Be Thou my vision, O Lord of my heart,"
Barbara's way on Sunday prevented that from happening, but that's probably
because she's a blind guide leading the blind about the wrong way, her way,
rather than The Way, Christ's Way, as detailed in Revelation 2:17.
Revelation
2:17 He that hath an ear, let him hear what the Spirit saith unto the churches;
To him that overcometh will I give to eat of the hidden manna, and will give him
a white stone, and in the stone a NEW name written, which no man knoweth saving
he that receiveth [it].
The Way home or face The Fire
http://thewayhomeorfacethefire.net/
I sent JAH/Christ details of a previous speech of Barbara's as the President
Elect.
https://www.churchtimes.co.uk/articles/2018/30-november/features/interviews/interview-barbara-glasson-president-elect-of-the-methodist-conference
Christ merely wrote back saying this:
"The hypocrisy."
Thank-you again for the kindness and concern you personally afforded to me on Sunday.
Perhaps you may wish to take this issue up with your boss, Barbara.
Although, you'd be more than welcome to also take the issue up with my boss Christ, Who is already here in His Second Coming.
On The Way to Emmaus Again
http://jahtruth.net/emmau2.htm
Peace be within you and upon you.
Tony
Disciple of JAH, Christ In His Second Coming
* P.S. JAH is otherwise known as EliJAH, CHRIST, or Crown Prince Michael, the
Archangel,
Subject: Stephen Radford
From: "Tony" <[email protected]>
Date: Mon, July 1, 2019 5:28 pm
To: [email protected]
Priority: Normal
Dear Lord,
Good afternoon and good wishes again.
The Methodist Minister who warmly spoke to me after Barbara Glasson's rude
treatment of me, is now a Superintendent Minister in Cumbria.
I remember him well when I met him on the Alpha course, when I first went to
Barnsley.
He once told this story below, to a congregation, and he was memorably and
visibly in tears, while doing so.
Father sacrifice his own son for others
https://www.youtube.com/watch?v=fs3rRDWQw5w
Kirkby Stephen, Appleby and Tebay Methodist Circuit
https://www.ksaandtcircuit.org.uk/circuit-staff
LLTK, LLTF,
Tony