HER ROOK, HIS PRIEST, ONE FAITH AND THEIR COVER
PART ONE – HER ROOK
With respect to the introductory description of this mini-series, if before watching, you would prefer to listen to an audio of the film's brief summary and explanation, rather than read what is below, please click here. Otherwise, please read on.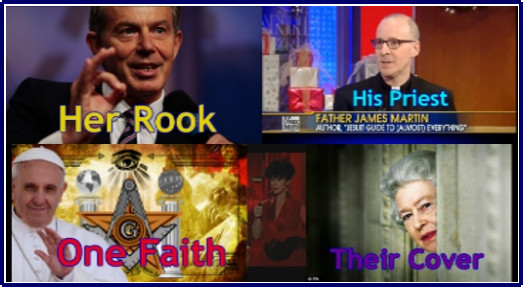 This latest JAHTALK film comes as a four-part mini-series and is a black satirical documentary of the western world's Satanic governance, as enacted out on the grand-chessboard,  often in the name of "CHRISTIANITY" or "DEMOCRACY", by an unholy trinity of "The Pentagon", "The Vatican" and "Buckingham Palace". The film's title derives from the black comedy romantic drama "The Cook, The Thief, His Wife and Her Lover". That movie starred Helen Mirren as the wife who forces her thug of a husband to eat the cooked dead-body of her lover, whom the brutish husband had viciously slaughtered upon discovering an affair.  Dafter still, seventeen years later, and Mirren, as the same willing pawn, promoted herself from adulterous wife to unfaithful queen in her BAFTA winning  performance of the fraught and hapless Elizabeth Mountbatten.
Devilishly designed to dupe the public at large, "The Queen" movie served to help cover-up the wretched three-fold royal assassination of Dodi Fayed, Henry Paul, and Diana Frances Mountbatten-Windsor (né Spencer). However, that "Lady Di" predicted her own  death, via a princely plot, would matter not to a nation, whose citizens cowardly stand by in willful blindness, while letting evil prevail.
Yet with people so blind to truth, a daft and dis-united kingdom  seems far more interested in idolising BAFTA clad actresses playing dead-beat monarchs, than bringing to justice the evil-deed-doers  operating within the fake queen's royal entourage.
So with these two macabre-like prequel films kept in mind, much fouler deeds than these, will now be eerily exposed within this pawn-free parody.
BRIEF SUMMARY OF PART ONE – HER ROOK

Against a backdrop of Zbigniew Brzezinski's grand-chess board, an opening gambit shows the black-queen's rook, played by Tony Blair, introducing the other major and minor black chess pieces.  However, as the early moves unfold, black-queen, as played by  Elizabeth, becomes visibly anxious about her throne. She ponders upon an abdication and the handing over of the reigns to her next generation. However, in the wise old words of a not-so mad professor, "THERE'S A CLASH COMING". The clash is across the board between the black-queen and THE WHITE-KING. Your task as viewers, is to discover the nature of that clash and determine what and who is meant by THE WHITE-KING and once enlightened, to then pick your side carefully in preparation for the coming battle ahead.
Part one of the film, entitled "Her Rook", pivots initially around some cringe-worthy early career blunders of the former Prime Minister Tony Blair, whose own vanity-ridden "journey" mirrors closely the era of decadent deception, so rampant in Britain, in  the latter quarter of the fake queen Elizabeth's sixty-six year old stretch of British / Israelite misrule.
Somewhat entertainingly in pursuit of Blair, is George Galloway in a witty cameo performance, ably backed up by a poignant modern day psalm about crooked politicians, with their tongues hanging out, sung by the Irish folk band leader of Tara Hill. The "politicians" in his lyrics are referring  to modern day Pharisees and of those, few are more infamous than Tony Blair himself. With Blair's pawn sacrifices mounting by the day and with  time ticking away on the clock, part one of the film, metaphorically  speaking, ends with a special white-knight fork between the black-queen and her rook, as finished off and executed  by a stunning combination from The White-King.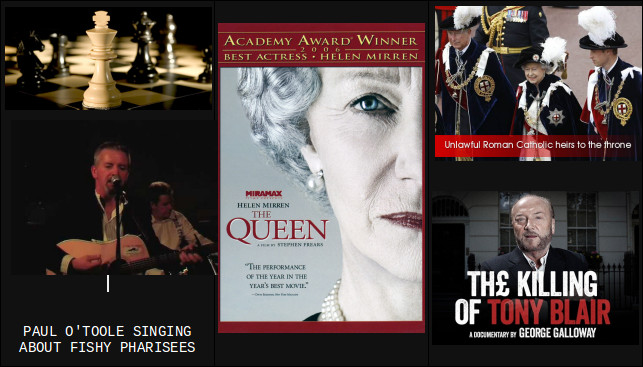 Watch now to discover how the WHITE-KING leaves the black queen exposed and drives off the other black pieces from the chess board.

CLICK BELOW TO VIEW PART ONE
REVISION QUESTION FOR PART ONE
QUESTION 1: With all roads leading to Rome, which chess-piece does the film, "Her Rook, His Priest, One Faith, and Their Cover", portray as having been responsible for the "MOTHER OF ALL SWINDLES"?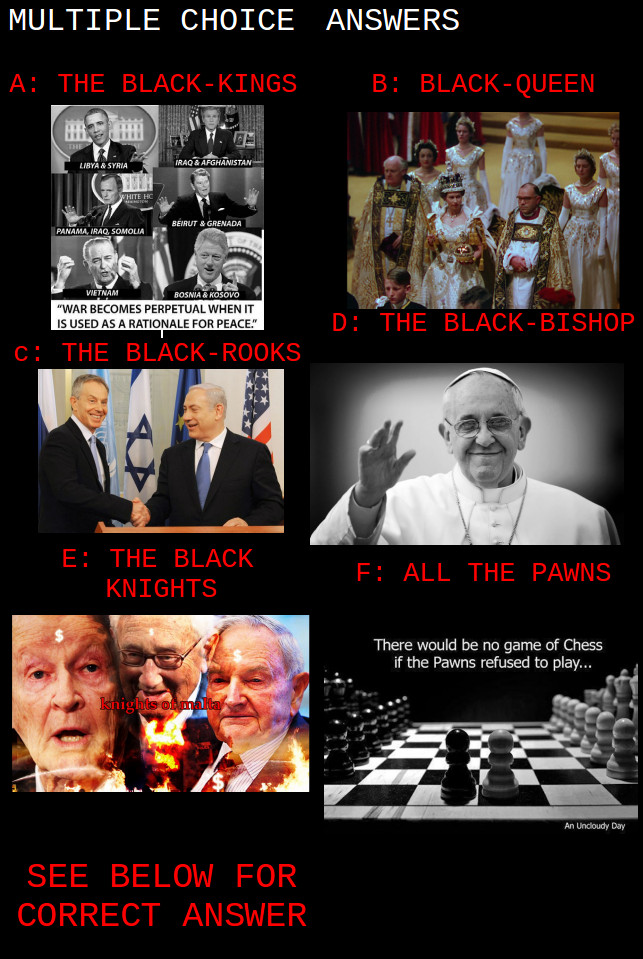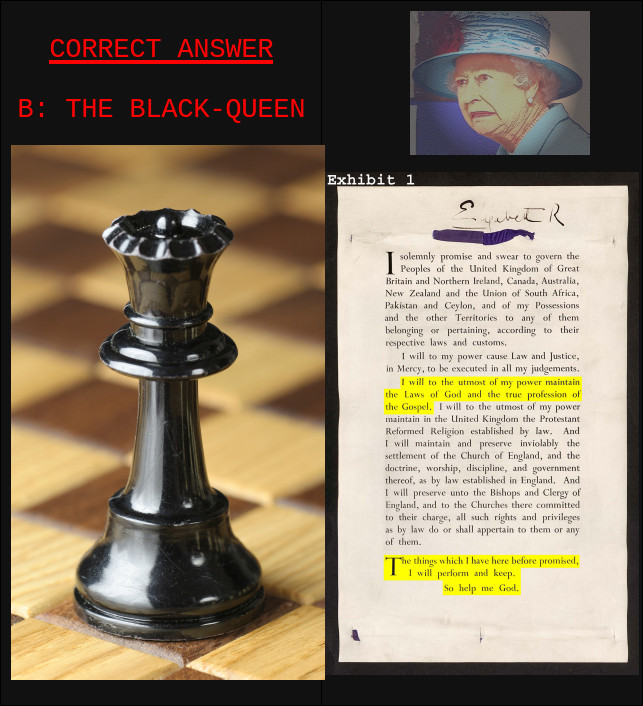 YES PUT IN, THEY ARE GOING TO REALISE WHAT THEY HAVE DONE
COMING SOON!
PART TWO – HIS PRIEST