Who is on The Lord's side?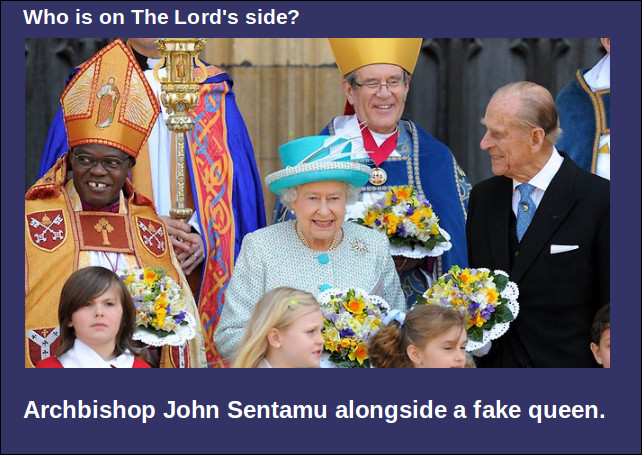 11th November 2017
Dear Archbishop Sentamu,
Good day to you.
I write with reference to the recent celebration of 50 years of Sheffield Churches Council for Community Care which was held on Monday 30th October 2017 in the Sheffield Cathedral.
I am the messenger whom Christopher Burke kindly allowed to do a short impromptu reading at that service before the congregation and in your presence at the above event.
By way of reminder, here below is the passage, as read out to the congregation, that night in Sheffield Cathedral.
"Christ said not for a generation (40 years) would he claim his Rightful Throne, the British-Israel Throne of David.
On 13/June/1988, 40 years from the Fig Tree putting forth its new shoots in 1948, Christ served a High Court Writ upon the British Parliament, at court in the City of Sheffield, where his new body had been born in 1948, as prophesied, demanding that he be acknowledged by Parliament as the Rightful British-Israel King.
Just as happened 2000 years before, when he was rejected by the "House of Judah", Christ was again rejected but this time by the other branch of Jacob-Israel's children – the "House of Israel".
This then condemned the "House of Israel"; who had by their rejection of Christ declared themselves to be Christ's enemies, like the "House of Judah"; to be punished by God and turned into Christ's footstool. That punishment involves defeat and slaughter of both "Houses" at Armageddon and their return to slavery again (Deut. 28:68) as they were in Egypt and later in Assyria and Babylon (soon) because they rejected The Covenant and God's Laws and Christ's Sovereignty."
The above passage is taken from Christ's very own article entitled: On The Way to Emmaus Again (Scripture explained again at the end of the 20th Century).
Christ's article can be read in full via the link here:
http://jahtruth.net/emmau2.htm
In intervening in the order of service to deliver an important message to Sheffield about Christ in His Second Coming, my sudden and unexpected entrance from a rear pew was in part prompted by "Her Majesty's Vice Lord Lieutenant's reading of Luke 10:25-37, and your very own associated sermon about "The Good Samaritan".
I remind you of it here, as you, in your role as The Archbishop of York seem to be 'fitting-the-bill' perfectly. Unwittingly or otherwise, you in your sartorial elegance are enacting the part of the priest as referred to in Jesus' well-known parable.
Perhaps what has escaped most in this story is that it wasn't what the Samaritan said; it was the ACTIONS of the Samaritan that made the difference. The Samaritan helped his neighbour because it was the right thing to do in God's Eyes.
Unfortunately, the Christian church, of which you play a key role, still hasn't learned this vital lesson. That is why, despite there being more Christians in the world today than ever before, the world is actually MORE evil than at any time in human history, exactly as prophesied (2 Thess. 2:3-12).
MILLIONS of people worldwide starve to death each year while those in positions of power live in opulence at the expense of everyone else. Where are the Christians DOING as Christ has COMMANDED to put this evil out from among us?
BILLIONS of people worldwide are in debt slavery to these very same people, in a system based completely on fraud and doing whatever one can "legally" get away with doing to one's neighbour, in a sick, twisted version of the golden rule (he who has the gold makes the rules) instead of the Second Great Commandment (Mark 12:31). Where are the Christians DOING as Christ has COMMANDED to put this evil out from among us?
There is injustice EVERYWHERE, in every courtroom, in every church, synagogue, mosque, temple, etc. Where are the Christians DOING as Christ has COMMANDED to put this evil out from among us?
Filthy and disgusting paedophiles and sodomites are not only tolerated, but protected by both the church and the state. Why? How can anyone in their right mind claim to be serving Christ and allow these child predators to roam the streets, hunt their prey in the schools and on the Internet, walk the halls of parliament, and lodge in the churches? Where are the Christians DOING as Christ has COMMANDED to put this evil out from among us?
We have endless wars which have taken countless millions of lives and soon will claim BILLIONS more (Revelation 9:15). Where are the Christians DOING as Christ has COMMANDED to put this evil out from among us?
What will it take for Christians to stop talking about Christ and start DOING as Christ COMMANDED to put all of this evil out from among us? It's easy to "talk the talk", but a different matter altogether to "walk the walk".
Please read the parable of the Good Samaritan again, as many times as necessary, until it hopefully sinks in.
Luke 10: 25-37, as taken from JAH's King of kings' Bible
10:25 And, behold, a certain lawyer stood up, and tempted him, saying, Master, what shall I do to inherit Eternal Life?
10:26 He said unto him, What is written in the Law? how readest thou?
10:27 And he answering said, Thou shalt love the Lord thy God with all thy heart, and with all thy soul, and with all thy strength, and with all thy mind; and thy neighbour as thyself.
10:28 And he said unto him, Thou hast answered right: this do, and thou shalt Live.
10:29 But he, willing to justify himself, said unto Jesus, And who is my neighbour?
10:30 And Jesus answering said, A certain [man] went down from Jerusalem to Jericho, and fell among thieves, which stripped him of his raiment, and wounded [him], and departed, leaving [him] half dead.
10:31 And by chance there came down a certain priest that way: and when he saw him, he passed by on the other side.
10:32 And likewise a Levite, when he was at the place, came and looked [on him], and passed by on the other side.
10:33 But a certain Samaritan, as he journeyed, came where he was: and when he saw him, he had compassion [on him],
10:34 And went to [him], and bound up his wounds, pouring in oil and wine, and set him on his own beast, and brought him to an inn, and took care of him.
10:35 And on the morrow when he departed, he took out two pence, and gave [them] to the host, and said unto him, Take care of him; and whatsoever thou spendest more, when I come again, I will repay thee.
10:36 Which now of these three, thinkest thou, was neighbour unto him that fell among the thieves?
10:37 And he said, He that showed mercy on him. Then said Jesus unto him, Go, and do thou likewise.
And please consider the following, to assist in that process:-
The scribe/lawyer asked THE Master/Teacher (Christ) what the requirements were to inherit Eternal Life. It should go without saying that those who decide of their own free-will to disregard this important lesson WILL NOT INHERIT ETERNAL LIFE.
Christ, the spirit-Being inside of Jesus, asked unambiguously "What is written in the Law? how readest thou?" Why? BECAUSE THE LAW IS STILL IN EFFECT TODAY, EXACTLY AS CHRIST TEACHES.
Matthew 5:17-20
5:17 Think NOT that I am come to destroy The Law, or the Prophets: I am NOT come to destroy, but to fulfill.
5:18 For verily I say unto you, Till heaven and earth pass, one jot or one tittle shall in no way pass from The Law, till ALL be fulfilled.
5:19 Whosoever therefore shall break one of these least COMMANDments, and shall teach men so, he shall be called the least in the Kingdom of heaven: but whosoever shall do and teach [them], the same shall be called great in the Kingdom of heaven.
5:20 For I say unto you, That except your righteousness shall EXCEED [the righteousness] of the lawyers and politicians, ye shall in no case enter into the Kingdom of heaven.
We are ALL neighbours on this prison planet, and should be lovingly helping each other not just with our words, but with our ACTIONS just as The Law teaches and just as the Samaritan did in the parable.
Ephesians 2:8-10
2:8 For by grace are ye saved through faith; and that not of yourselves: [it is] the gift of God:
2:9 Not of works, lest any man should boast.
2:10 For we are His workmanship, created in Christ Jesus to do good WORKS, which God hath before ordained that we should walk in them (do them – good works).
Matthew 16:27 For the Son of Man shall come in the glory of his Father with his angels; and then he shall reward every man according to his WORKS.
Revelation 20:12-13
20:12 And I saw the "Dead", small and great, stand before God; and the books were opened: and another Book was opened, which is [the Book] of Life: and the "Dead" were judged out of those things which were written in the Books, according to their works.
20:13 And the "sea" gave up the "Dead" which were in it; and death and hell delivered up the dead which were in them: and they were judged every man according to their WORKS.
Please note well that the clergy passed by the man who was injured and left for dead without ever lifting a finger to help, proving not only that their words did NOT match their actions (Matt. 15:7-9), but that their actions were evil, i.e. NOT from God (Matt. 7:15-27, Matt. 23). Has anything changed today, except for the worse?
That's the real question, upon which YOUR eternal Life hangs in the balance. Will YOU be a good Samaritan today or will you continue to ignore The Law/Commandments that could help save us all, and in doing so condemn not only yourself but those who are foolish enough to follow you (Matt. 15:14)? The Anglican clergy has assisted the evil monarchy (1 Samuel 8) in impoverishing the people, because the Archbishops and Bishops are members of the Parliament, in the House of Baalim/Lords, who have given their assent to all the fraudulent legislation that has been used against the people, to enslave and impoverish them, as prophesied in 1 Samuel Ch. 8.
John 14:15 If ye love me, KEEP my COMMANDments.
If you find these questions or this information offensive, then you lack the humility necessary to see this situation clearly. A servant is NEVER above His Master, and anyone claiming that Christ is their Master/Teacher MUST learn to be a servant BEFORE they can help anyone else do anything, as you know or should know.
The ceremony/celebration of 50 years of Sheffield Church Council for Community Care that you were a part of on the 30th of October 2017 was briefly interrupted to inform those attending that Christ is here AGAIN, to give us a FINAL WARNING (Mal. 4) to repent of our sins/lawlessness (1 John 3:4) and return to keeping The Law/Commandments, which is the ONLY Way we can love our neighbour as much as or more than ourselves (the REAL golden rule).
The impromptu announcement may have seemed like a bold move, but how could anyone knowing Christ withhold that information, even from those who have historically fought and taught against Christ (Matt. 12:30)? Our neighbours are not just those that we think are like-minded, but those that think of themselves as our enemies too.
Matthew 5:43-45
5:43 Ye have heard that it hath been said, Thou shalt love thy neighbour, and hate thine enemy.
5:44 But I say unto you, Love your enemies, bless them that curse you, do good to them that hate you, and pray for them which despitefully use you, and persecute you;
5:45 That ye may be the children of your Father which is in heaven: for He maketh His sun to rise on the evil and on the good, and sendeth rain on the just and on the unjust.
Again, the question is this: after 2000 years has anything changed except for the worse? Do the clergy STILL think they know better than THE Master/Teacher (Matt. 23:8-10, 1 Tim. 2:5) despite all of the evidence to the contrary? Do you?
ANYONE who isn't advocating a complete return to The Law God gave us, and ONLY His Law (Acts 5:29), is working against God and Christ, regardless of how they may dress or what they may say. And that includes Elizabeth A.M. Battenburg/Mountbatten who, at her coronation ceremony on the 2nd of June 1953, swore to do her utmost to maintain The Laws of God, something she has NEVER done.
In fact, The Law expressly forbids mankind from legislating (Deut. 4:2, 12:32), or making up any rules, upon pain of death (Deut. 17:11-13). This clearly includes ALL "religious" rules, rites and practices, as well as "acts" of parliament and "royal assent", something Elizabeth has done thousands of times, with the assistance of the Anglican clergy.
During her fraudulent coronation, on a fake coronation stone/throne, Mrs. Elizabeth Alexandra Mary Battenberg/Windsor proceeded to the altar where she stated, "The things which I have here promised (to maintain The Law of God to the UTMOST of her power), I will perform, and keep. So help me God", before kissing the Bible and putting the royal sign-manual to the oath, as the Bible was returned to the Dean of Westminster. From him The Moderator of the General Assembly of the Church of Scotland, James Pitt-Watson, took the Bible and presented it to the Queen again, saying, "Our gracious Queen: to keep your Majesty ever mindful of The Law and the Gospel of God as the Rule for the whole life and government of Christian Princes, we present you with this Book, the most valuable thing that this world affords. Here is Wisdom; This is the Royal Law; These are the lively Oracles of God."
Please watch Elizabeth 2 Go Ripple Effect for proof of above.
She has obviously broken her oath and made herself an enemy of Christ. Will you do the same? Or will you do the brave and honourable thing and help the people who have been impoverished and enslaved by all of this satanic, man-made legislation? GOD WILL NOT SAVE THE QUEEN (Ezek. 21:25-27).
Ezekiel 21:25-27
21:25 And thou, profane wicked prince of Israel, whose day is come, when inequity [shall have] an end,
21:26 Thus saith the Lord "I AM"; Remove the diadem (sovereignty), and take off the crown: this [shall] not [be] the same: exalt [him that is] low (Line of Zarah), and abase [him that is] high (Line of Pharez).
21:27 I will overturn, overturn, overturn, it: and it shall be no [more], [overturned] UNTIL he come whose Right it is; and I will give it [him – Shiloh (Gen. 49:10)].
Finally, as a messenger sent to Sheffield Cathedral on the night, the subsequent exit from centre stage was derived from an obligation not to participate in the standing and singing of the national anthem dirge. The inclusion of the lesser known stanza three can be further linked to my main message on the night. Note well, this stanza incorporates the following words. "May she defend our laws, and ever give us cause to sing with heart and voice, God save the Queen!".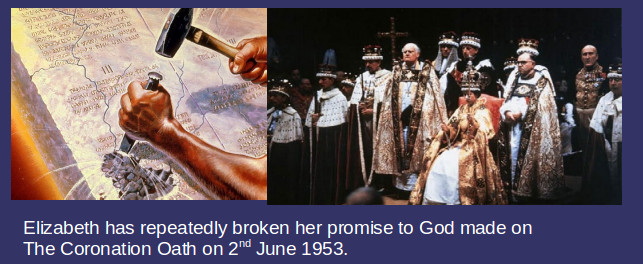 Your fake queen notwithstanding, for your own sake and the sake of all your fellow deluded dignitaries there in Sheffield Cathedral on the night, you really need to fully appreciate the fact that Elizabeth A.M. Battenburg/Mountbatten really did break her promise to God immediately after she partook in The Coronation Oath on 2nd June 1953. Ever since, Elizabeth, with the full blessing of The Anglican Church, has duly done the exact opposite of the sworn oath she made on The Holy Bible. Her promise to God, as is well-documented in Christ's article below, remains nothing but a sham, but suffice to say, God will not be mocked.
The TRUTH about the British Monarchy; the "Golden Jubilee" (50 year reign) of the queen who never was and The GOSPEL of The Kingdom.
http://jahtruth.net/britmon.htm
In copying this open letter to each and everyone of your main partners in crime on the night, hope exists that some of you will come to your senses, repent of all your sinful indulgences and take heed of the fact that Christ really is here in His Second Coming, and was rejected by the House of Israel in the city of Sheffield nearly thirty years ago.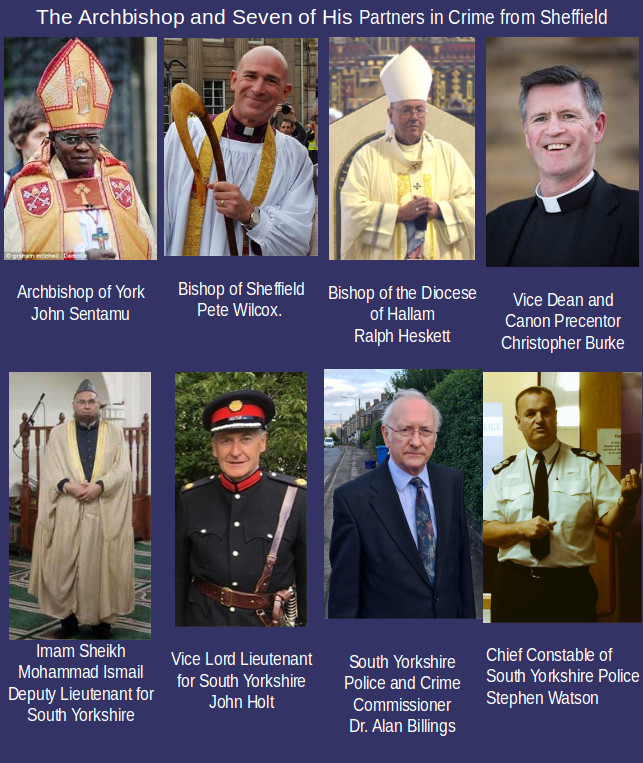 This open letter can be viewed on my JAHTALK website here.
Peace be within you and upon you.
Tony Farrell
A DISCIPLE OF JAH/CHRIST