What is Truth?
Question 1 – And The Sun Shines Now

Do you want to understand what it really meant when the late Peter Jones spoke the words: 'And the Sun shines now'? Then, please answer these fourteen questions, honestly.
Peter Jones – And the Sun shines now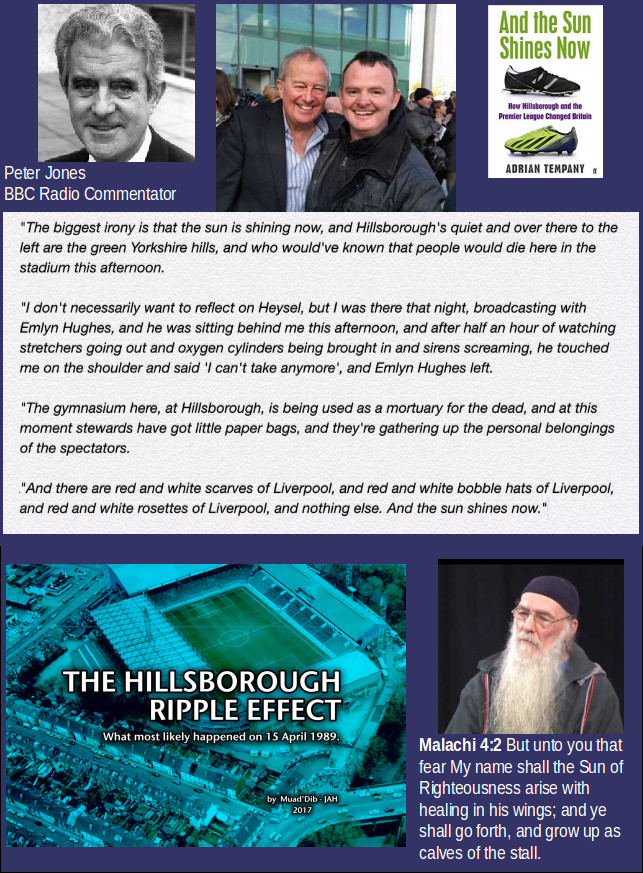 Question 2 – What is Truth?

'Hillsborough families have shown people 'they can access justice'
Really, Professor Scraton?  Have you asked The Black Advocate, Marcia Willis-Stewart, whether she thinks the families of Jean Charles De Menezes would agree with you on that?
Following the CPS Charging Decisions announced on 28th June 2017, and after watching JAH's Hillsborough Ripple Effect film, how certain are you that the Hillsborough families now, after twenty-eight long years, have the truth, and that justice really has prevailed?
The Anfield Wrap  by Professor Scraton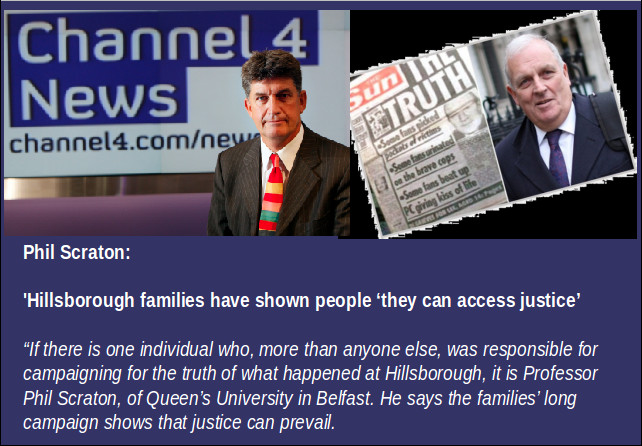 John
18:36 Jesus answered, My kingdom is NOT OF THIS WORLD: if my kingdom were of this world, then would my servants fight, that I should not be delivered to the Jews: but now is my kingdom not from hence.
18:37 Pilate therefore said unto him, Art thou a king then? Jesus answered, Thou sayest that I am a king. To this end was I born, and for this cause came I into the world, that I should bear witness unto the Truth. Every one that is of the Truth heareth my voice.
18:38 Pilate saith unto him, What is Truth? And when he had said this, he went out again unto the Jews, and saith unto them, I find in him no fault [at all].
Question 3 – Culpable Untruth

Cutting to the chase, does your article below, actually mean that you are very diplomatically calling Theresa May a liar about Hillsborough, please?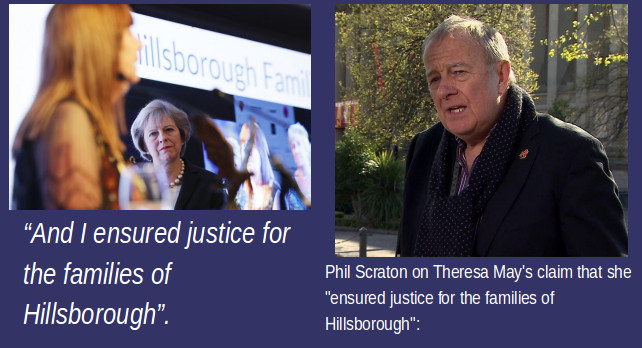 Prime Minister, Hillsborough and 'post-truth' by Professor Phil Scraton
This was the remarkable claim made by Prime Minister Theresa May in the House of Commons today. It is clear that we now live in a political climate where 'truth' no longer matters; where reality can be reconstructed to suit the selfish interests of those whose disingenuous claims become accepted facts simply because they are made.
I have researched and published on the injustices of Hillsborough for 27 years: two major reports; four editions of Hillsborough: The Truth – first published in 1999; numerous academic articles and television/ film documentaries. I wrote the initial proposal for the Hillsborough Independent Panel and headed its research. The Panel was appointed by a Labour Government following Andy Burnham's impassioned approach to Gordon Brown. He was supported by Merseyside MPs, not least Steve Rotheram.
The research was located in my university and I was principal author of the Panel's 398 page, twelve chapter, report. On 12 September 2012 I delivered it to families and survivors in two extensive presentations, neither of which were filmed – nor were they recorded. David Cameron was then Prime Minister. It fell to him to make the now well documented double apology to families and survivors in the House of Commons. The families, their loved ones and the survivors were vindicated.
After the report's publication, it was the High Court that quashed the accidental death inquest verdicts, ordering new inquests. As Home Secretary at the time, Theresa May had no option but to initiate a new criminal investigation and a full review by the Independent Police Complaints Commission. Four years on, these most expensive investigations in legal history, employing hundreds of full-time officers, have still to conclude.
Following a year of preliminary hearings, the longest-ever inquests ran for two full years, concluding in late April 2016. Their inception, process and outcome had nothing to do with Theresa May. The jury's verdict was unequivocal. The 96 had been unlawfully killed, the authorities involved particularly the South Yorkshire Police were condemned in 25 severe criticisms. The fans, so long vilified in the media and by politicians, were vindicated.
Establishing the truth of Hillsborough, both in the Panel's work and via the inquests, was the result of years of painstaking research and investigation. It was conducted often against the odds, in a climate hostile to the truth, bringing threats and disdain to those of us involved. No people know that better than the bereaved families, the survivors and all who have worked throughout to reverse the injustices of Hillsborough.
To witness a Prime Minister, her ego possibly inflated by extraordinary recent events in the United States, claiming that she ensured justice for families is, at best, delusional. At worst it is a culpable untruth, perhaps uttered in the heat of the moment, to gain traction at a time when her integrity already is under scrutiny.
Proverbs
12:22 Lying lips [are] abomination to the "I AM": but they that deal truly [are] His delight.
Question 4 – Andy Burnham's U-Turn on Truth

Andy Burnham: We won't have full truth on Hillsborough until we know what happened at Orgreave.
Amber Rudd:  There will be no inquiry into the Battle of Orgreave.
How has it suddenly become possible to have accountability and justice without the full truth, amidst an establishment stitch-up which is a nakedly political act?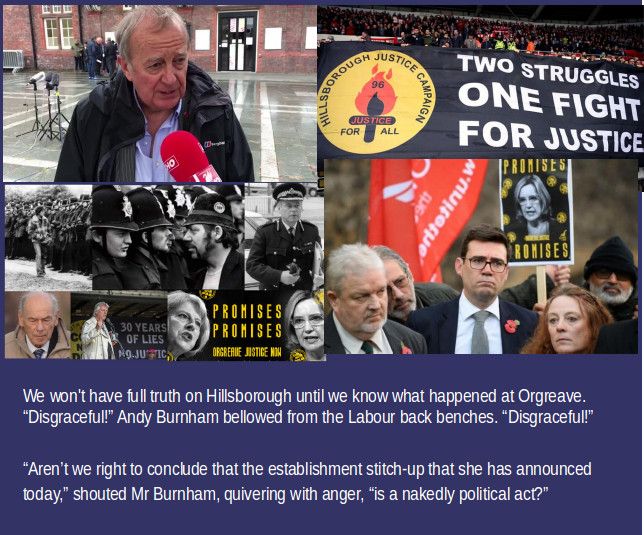 A Naked Political U-Turn?
In a joint statement, Liverpool mayor Steve Rotheram and the mayor of Greater Manchester Andy Burnham paid tribute to the "extraordinary determination and dignity" of the families.
"Without seeking to prejudge what will now happen, it is surely right that there will now be accountability for what happened on the day and for the cover-up that followed," they said.
"It is all the families have ever wanted and it is what we have all campaigned for. Justice will now at long last take its course.
Question 5A – Daniel Gordon's Writing on The Wall

Do you understand the real meaning of MENE, MENE, TEKEL, UPHARSIN in Daniel 5, please?
Please share with your good friend and excellent documentary film-maker Daniel.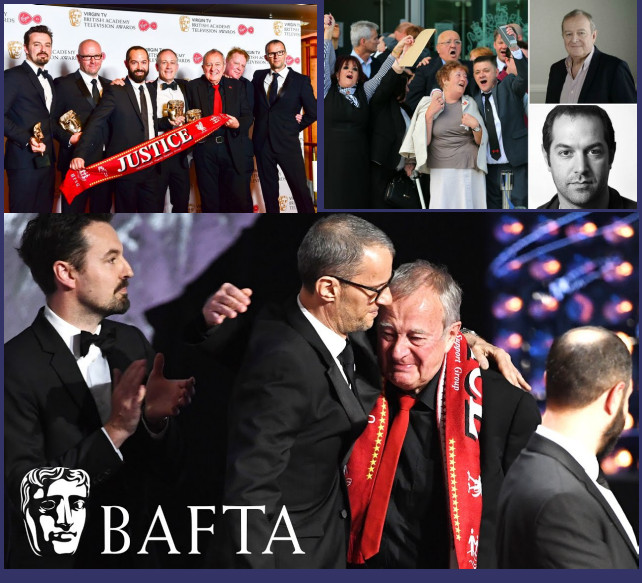 Daniel
5:22 And thou his son, O Belshazzar, hast not humbled thine heart, though thou knewest all this;
5:23 But hast lifted up thyself against the Lord of heaven; and they have brought the vessels of His House before thee, and thou, and thy lords, thy wives, and thy concubines, have drunk wine from them; and thou hast praised the gods of silver, and gold, of brass, iron, wood, and stone, which see not, nor hear, nor know: and the God in Whose hand thy breath [is], and Whose [are] all thy ways, hast thou not glorified:
5:24 Then was the part of the hand sent from Him; and this Writing was written.
Question 5B – The Writing on The Wall

Listen to Phil Scraton: What is the cost of Hillsborough?
"We should not have had to witness those in authority dragging the case out longer and longer, knowing, knowing what they were doing. But more importantly, we should not have had to wait until now for this to happen, when the writing wasn't only on the wall, the writing was on the wall  in block capitals for everybody to see.  And I don't think the justice system has been fit for purpose."
In the light of  the  announcement  of the Crown Prosecution Service's charging decisions, are you all of a sudden reassured that the justice system is now FIT FOR PURPOSE?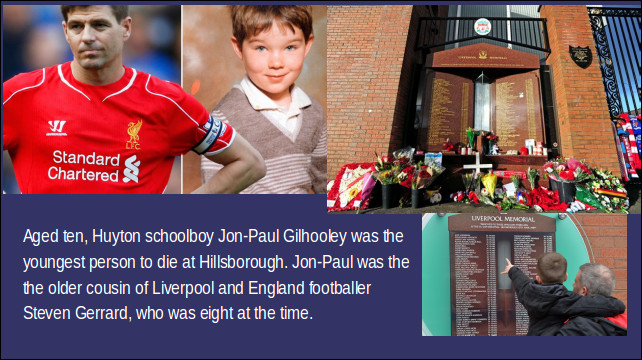 Daniel
5:25 And this [is] the Writing that was written, MENE, MENE, TEKEL, UPHARSIN.
5:26 This [is] the interpretation of the thing: MENE; God hath numbered thy kingdom, and finished it.
5:27 TEKEL; Thou art weighed in the balances, and art found lacking (unworthy).
5:28 PERES; Thy kingdom is divided, and given to the Medes and Persians.
5:29 Then commanded Belshazzar, and they clothed Daniel with scarlet, and [put] a chain of gold about his neck, and made a proclamation concerning him, that he should be the third ruler in the kingdom.
5:30 In that night was Belshazzar the king of the Chaldeans slain.
Matthew
18:10 Take heed that ye despise not one of these little ones; for I say unto you, That in heaven their angels do always behold the face of my Father which is in heaven.
Question 6 – Focus On Whether it was The Right Decision

While not excusing David Duckenfield's conduct on the day and over the years, how can there possibly be truth and justice when the key decision-maker is still to this day, being palpably protected, especially given a rogue former chief constable like Meredydd Hughes, gave us all a massive hint about not using Duckenfield as the scapegoat, twenty years on from the disaster?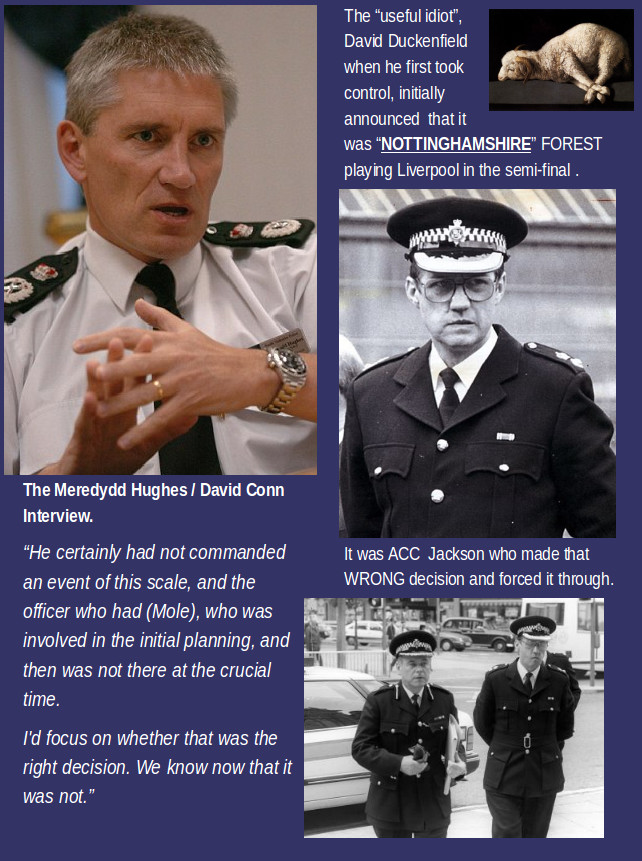 Question 7 – Cryptic Clues – Crompton's Catastrophic Flannel

Five bereaved Hillsborough families were told they cannot give evidence in a case brought by South Yorkshire's former chief constable and must pay HIS lawyers' bills of up to £28,000. That's one thousand pounds for every year of injustice, I warrant!   Given the "SHARP" treatment dished out by her majesty's court service  and the cruel and dismissive nature of her majesty's inspector of constabulary Sir 'Daddy' Dan, and Sir Tom  'No Bobby' Winsor, towards the families' plight, was Crompton justified to portray  Billings, as stabbing him in the back?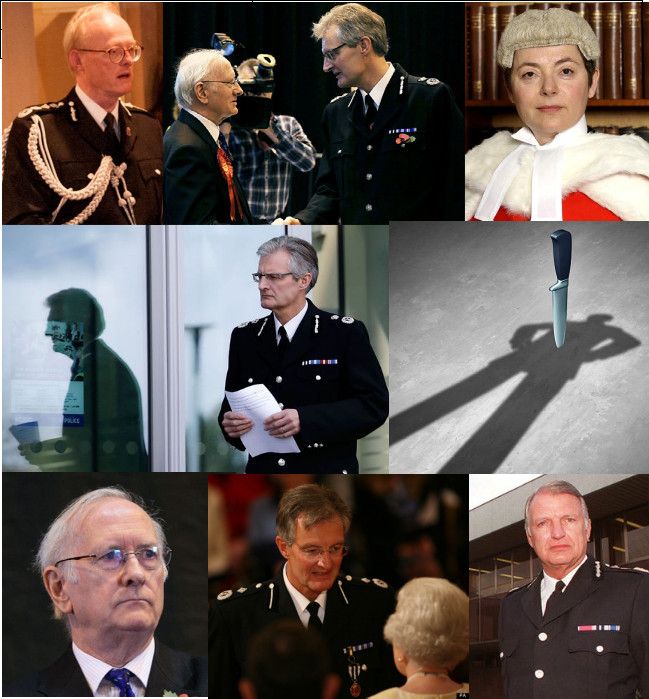 Jeremiah 20:10   
For I hear many whispering. Terror is on every side! "Denounce him! Let us denounce him!" say all my close friends, watching for my fall. "Perhaps he will be deceived; then we can overcome him and take our revenge on him."
Question 8 -Taking the Michael

Do you get the Coroner's joke below, please? If not, read Taking The Michael against this, the F.A. backdrop.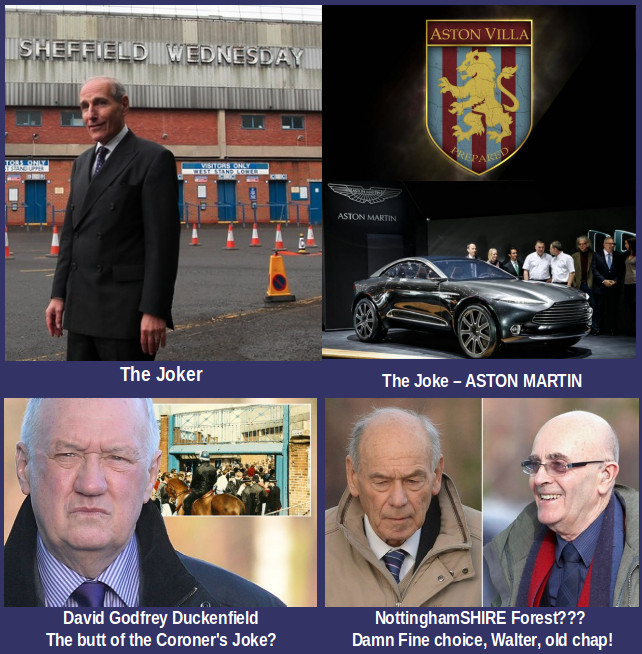 "After the 1988 FA Cup semi-final at Hillsborough between the same two clubs, Titcombe said he was not aware there had been congestion outside the Leppings Lane turnstiles, nor overcrowding in the terrace's central pens. He had written to Graham Mackrell, the Sheffield Wednesday secretary, to congratulate him on the event's success, telling him that Hillsborough was "firmly reinstalled on the semi-final scene, and Doug Ellis will have to look to his laurels."
"The coroner, Lord Justice Goldring, attempting to clarify that Doug Ellis was then the chairman of Aston Villa, said "Aston Martin" by mistake. There was laughter in the converted court room in Warrington."
Question 9 – Accidents happen?

Having put former UKIP leader Paul Nuttall to the sword about issues of truth regarding Hillsborough, and in the light of the The Ripple Effect of Hillsborough (PDF version), do you now doubt the notion that Hillsborough was just a preventable accident, in favour of the notion of it being instead, a deliberate state-sponsored catastrophic event, please?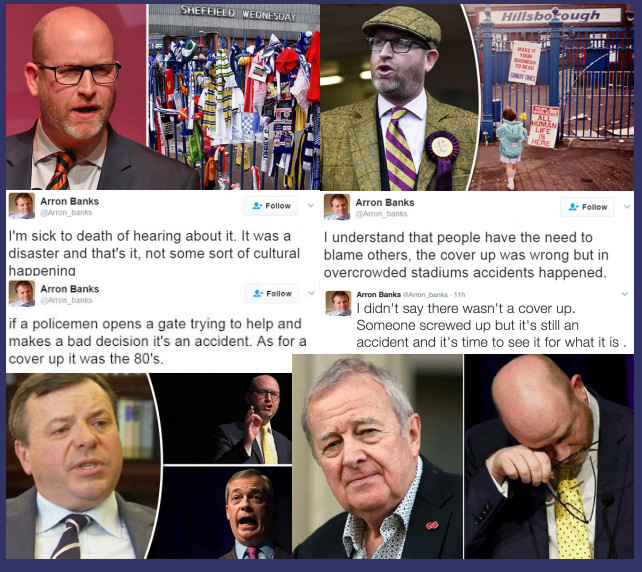 Proverbs 6
6:16 These six [things] doth the "I AM" hate: yea, seven [are] an abomination unto him:
6:17 A proud look, a lying tongue, and hands that shed innocent blood,
6:18 An heart that deviseth wicked imaginations, feet that be swift in running to mischief,
6:19 A false witness [that] speaketh lies, and he that soweth discord among brethren.
Question 10 – Far from The Cladding Crowd

Before either you, or others connected with Hillsborough, or your profession, start offering their words of "wisdom" to advise the family victims of Grenfell, why doesn't any one of you, instead, call this out for what it plainly is, and thereby further help the nation wake-up  to a fundamental issue for humanity? Why do truth campaigners still think it is somehow okay in the sight of The Almighty, to show wilful blindness  to the stark truth about 9/11? If you somehow don't get the meaning of my question, please watch Tony Rooke's documentary "Incontrovertible".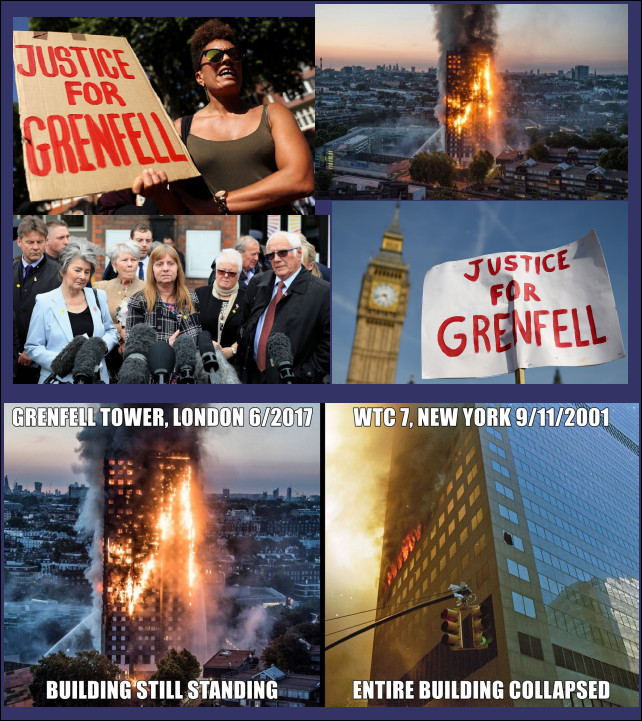 Revelation 9:11 And they had a king over them, [which is] the angel of the Bottomless Pit, whose name in Hebrew [is] Abaddon (Destroyer), but in Greek [his] name is Apollyon (Destroyer – Satan).
Start fight for justice now, Hillsborough mum urges Grenfell Tower campaigners
http://www.liverpoolecho.co.uk/news/liverpool-news/start-fight-justice-now-hillsborough-13206412
The Grenfell Tower inquiry: learning from Hillsborough
https://theconversation.com/the-grenfell-tower-inquiry-learning-from-hillsborough-79505
Question 11 – Sleeping With The Enemy

Sunday Morning Live with Sir Ian Blair on BBC One – 3rd Nov 2013
On this day, the 7th July 2017, please, I urge you to watch 7/7 Ripple Effect 2 by JAH/Muad'Dib, if you have not already done so. Then,  your valiant analysis on the show notwithstanding, reflect on whether it was a wise thing for you to appear on the same show as Sir Ian Blair, one of the main architects behind London's 9/11?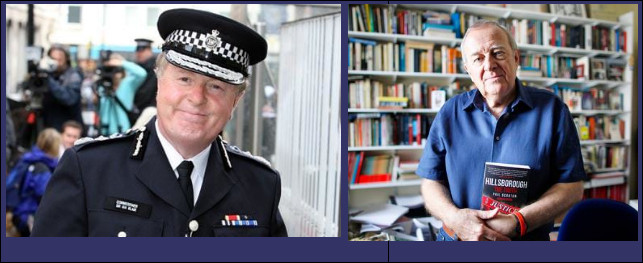 Ephesians 5:11
5:11 And have no fellowship with the unfruitful works of darkness, but rather reprove [them].
Question 12 – Forking Bishop and Queen

Is the acceptance of James Jones', Margaret Aspinall's, and Trevor Hicks' gongs from Elizabeth, a help or a hindrance to eliciting The Truth about Hillsborough?
Please see "The Persistent Widow" for related material.
Phil Scraton on Hillsborough and turning down an OBE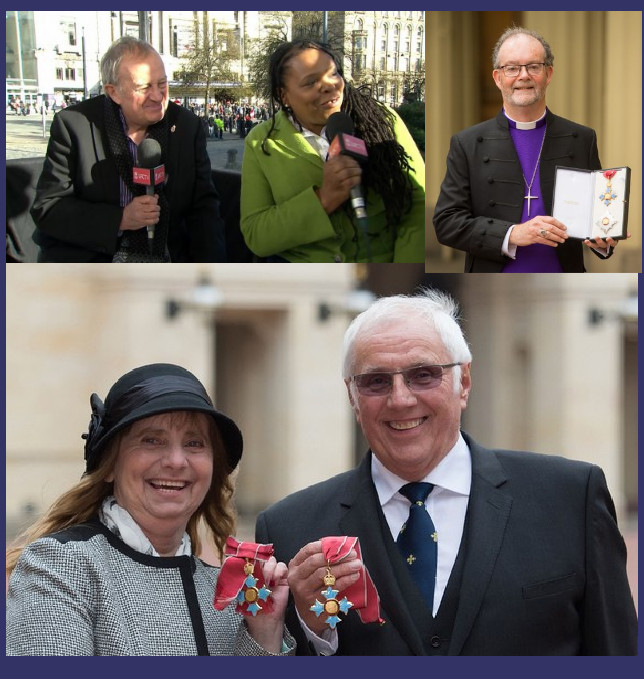 Proverbs
16:19 Better [it is to be] of an humble spirit with the lowly, than to divide the spoil with the proud.
A Prophecy about Elizabeth – The White Rose of Athens
Question 13 – So What Is Truth?

Hillsborough families are happy with the decision made by CPS?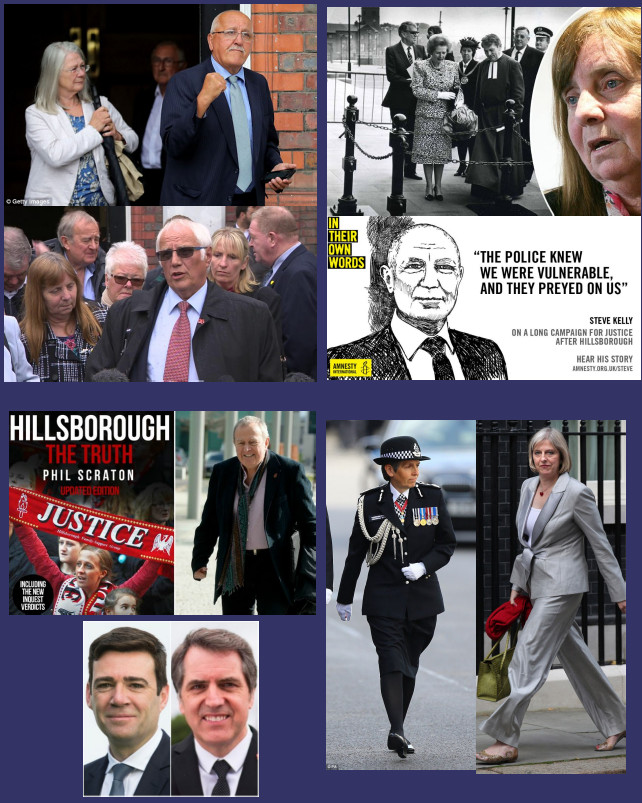 John 8:32
32 And ye shall know the truth, and the truth shall make you free.
Question 14 – IRELAND'S DESTINY

Do you really want to help bring about Healing Wings for the 96, please? In a prophetic sense,  do you understand the meaning of the last few verses within The Old Testament please, and if so, do you understand the significance of Malachi 4 verse 2, in relation to JAH's contact so far, with the families of the 96 please?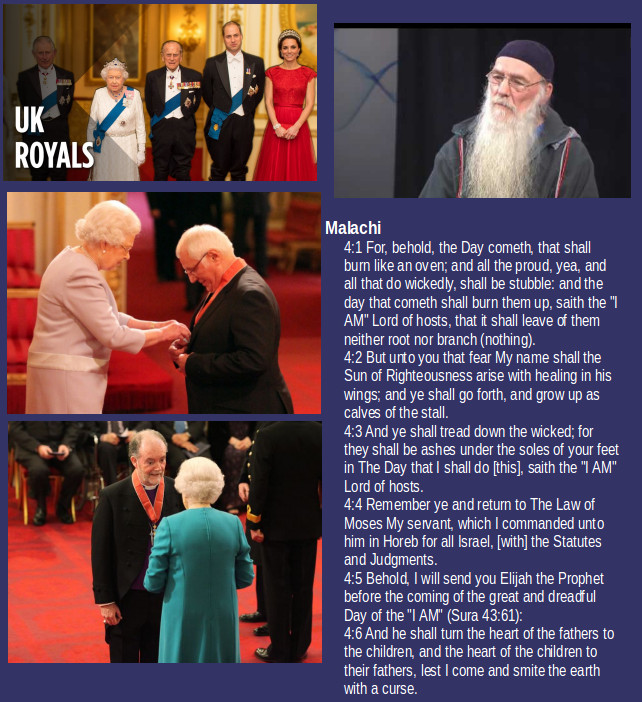 If so, please contact directly the Hillsborough Ripple Effect film-maker, Who is ELIJAH the Prophet via His email address: [email protected].