Part 4
SleuthER's Progress
SHEFFIELD
Dr. Alan Billings

c/o

South Yorkshire Police

Carbrook Hall

Sheffield

United Kingdom

Tony Farrell

XXXXXXXX

Sheffield

South Yorkshire

XXXXXXXX
 20th January 2018
Dear Alan,
Although this letter relates to the enforcement of The Law, it is more of an ecclesiastical concern than a policing issue, so apologies in advance for using your SYPCC office email address to contact you. The letter's purpose is to bring to your attention, one of a series of publicised letters from Christ and a 95 Theses from Martin SleuthER. This particular version of the letter from Christ has been specifically compiled for Sheffield, and it has you as the main recipient with others from the clergy copied in. Christ's letter contains a seven-point requirement for all churches in Sheffield. However, please note, Sheffield is not being singled out in isolation. On the contrary, you are in somewhat familiar company, as The Archbishop of Canterbury and The Archbishop of York, via Bishop James Jones, have each received their own versions.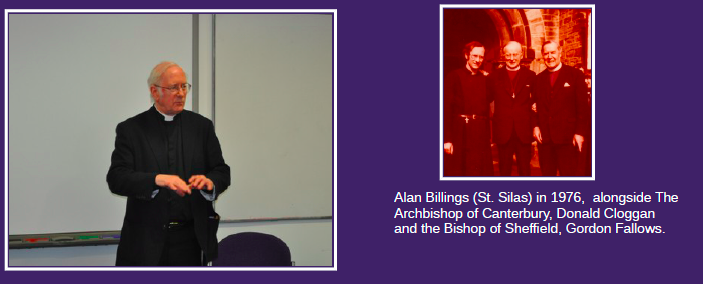 Further afield, Scotland, Wales, Ireland and Malta have also been alerted to varying degrees to both their own separate versions of Christ's letter and Martin Sleuth-ER 's 95 Theses on Elizabeth Battenberg.
For Sheffield, as the city where the body of Christ in His Second Coming was born in 1948, you just so happen to have been my recommended recipient of first choice for receiving both documents.
Your selection owes much to the fact that you have already exchanged correspondence with Christ, albeit with an underwhelming outcome. Setting aside our disappointment in you, I still remember well how you once publicly cited a prayer from the Old Testament Prophet Jeremiah in making a call for peace in the City, just prior to your successful first-time election into the position of police and crime commissioner.
In writing, I also wish to inform you specifically that a Public Notice has recently been mounted on doors in various buildings within Sheffield. Buildings include the following: the local BBC Radio Sheffield Studios; a Mosque of considerable mutual interest; twelve of the city's churches; and with you very much in mind, a sole surviving Police Box located outside the Town Hall. I trust you appreciate that little gesture dating back from our respective times spent working for Sheffield City Council at The Town Hall.
The Public Notice signposts Martin Sleuther's 95 Theses, which features none other than Elizabeth Battenberg, and I strongly urge you to read and digest its contents. You will see that Sleuth-ER's 95 Theses was initially unleashed upon Westminster Abbey at 4 a.m. on Christmas Day 2017, exactly sixty-seven years after Jacob's Pillar/The Coronation Stone was removed from The Abbey by four Scottish Nationalists in accordance with Bible Prophesy. If my maths is correct, you would have only been six back then.
Finally, since you appear to have become rather adept of late at merely noting things from me, rather than doing the right thing, I will on this occasion refrain from making further recommendations for you. Instead however, because you still publicly proclaim to follow the Teachings of Christ, I am more than happy to pass on a message that JAH, The Lord, Christ in His Second Coming would like to invite you personally to Ireland, to meet with Him, so that the "Seven Requirements of The Churches of Sheffield" can be discussed in more detail, and so that you can learn the TRUE Teaching of Christ from Christ Himself, instead of the satanic nonsense you've been taught in seminaries. This would be in relation to the City of Sheffield, and the role of The Church of England, at an important phase during Christ's Second Coming.
Peace be with you.
Tony Farrell
Cc:

Justin Welby, The Archbishop of Canterbury; John Semantu, The Archbishop of York;
Ralph Heskett, Bishop of Hallam; Pete Wilcox, The Bishop of Sheffield;
Gill Newton, The chair of The Sheffield Methodist District;
Bill Thomas, Former President of Gideons International;
Chief Constable, Stephen Watson;
The Leaders of the Twelve Churches and one Mosque, as shown in this letter;

1

Collectively, all the many deceptions of the churches in England must cease. This includes churches of all denominations in Sheffield. The churches must make known to the public at large, the following two home-truths:

| | |
| --- | --- |
| (i) | The Biblical TRUTH behind The Stone of Destiny/Jacob's Pillar; |
| (ii) | The ongoing fraudulent practice of both the church and state in relation to the fake stone, as used during Elizabeth's fraudulent coronation ceremony, on 2nd June 1953. |

Please note this is the same fake stone / throne currently on show in Edinburgh Castle, serving no other purpose than to dupe the British public about The Throne.

2

With immediate effect, collectively, the churches in Sheffield must publicly call for ELIZABETH TO GO, and simultaneously demand that the rest of the corrupt and obscenely self-indulgent fake British Monarchy step aside in favour of Christ in His Second Coming. Failure to heed this imperative, will soon bring down The Wrath of God down upon not just on the city of Sheffield but also on the Anglican church and the church of Rome.

3

Collectively, the churches in Sheffield must cease all the deceptions which merely serve to hide the true identity of the British people from the public at large. The churches in Sheffield must publicly recognise that The British are The True Israelites, The People of The Covenant, and that the English people (Anglo-Saxons) descend from Jacob and Joseph / Ephraim and form an integral and pivotal part of the ten lost tribes of Israel.

4

Collectively, prior to Elizabeth's forthcoming abdication, as prophesied in Ezekiel 21:25-27, and others like Nostradamus and Columba, the churches in Sheffield must impart an unequivocal message to The British People, that JAH, Christ, in His Second Coming, needs to be given His Rightful British Israelite Throne which was first claimed in Sheffield on 13th June 1988.

5

Collectively, the churches in Sheffieldr, who currently clearly and demonstrably serve Satan, must switch their allegiance to Christ, The King of kings', Who is here on earth in His Second Coming, and from henceforth, all the Satanic Priesthood operating throughout England's fourth largest city, across a wide variety of Christian denominations, must start to practice what they like to preach, by the following two means:

| | |
| --- | --- |
| (i) | Strictly keeping all of GOD'S Commandments, as given to Moses at Mount Sinai, and as reinforced and added to by Jesus Christ two thousand years ago. |
| (ii) | Strictly adhering to Christ's messages contained with The Way home or face The Fire, which is The White Stone of Revelation 2:17. |

6

GOD'S LAW and GOD'S LAW alone, must become the Law of the Land. There must be zero-tolerance of anything conflicting with GOD'S LAW. That necessitates discarding all the existing man-made legislation introduced under Elizabeth's fraudulent sixty-five year old reign, as well as under previous monarchs.

7

Collectively, the churches in Sheffield must repent before CHRIST for all their erroneous ways in leading their flocks astray about GOD'S LAW, by falsely teaching, over the course of modern history, that it has been abolished. Instead of using churches for all your false teachings, dished up with an array of traditional hymns and rituals, many of which are blasphemous to GOD, all church buildings must be handed over to Christ and used instead as Community Centres, and for the community to learn THE SONG OF MOSES and THE SONG OF THE LAMB.
JAH, CHRIST IN HIS SECOND COMING